Monday, December 29, 2008
Angels in the Life of the Believer
But angels are only servants. They are spirits sent from God to care for those who will receive salvation.
—Hebrews 1:14
Let me share with you a true story about a missionary named John Patton. He was based in the New Hebrides Islands with his wife and children. They had a mission compound there.
One night, hostile natives surrounded the mission station intent on killing this missionary and his family. First they were going to burn them out. Then they were going to kill them.
On that terror-filled night, Patton and his wife prayed that God would deliver them. When daylight came, they were surprised to find that their attackers left.
A year later, the chief of the tribe that was going to attack Patton, became a Christian. Curious about that horrifying night one year ago, John Patton said to the chief, "Excuse me, but you must tell me what happened on that night. You were ready to burn us out and kill us. Why did you turn back?"
The chief responded, "Well, who were all of those men that were with you there?"
Patton knew of no men who were with him and answered, "What are you talking about?"
"Well, we were afraid to attack because we saw hundreds of big men in shining garments with drawn swords. So we turned back."
This quite possibly could be a modern day example of angelic protection in the life of a Christian. The Bible teaches that angels have been involved in the lives of God's people and continue to be involved to this present day.
Copyright © 2008 by Harvest Ministries. All rights reserved.
Scripture quotations are taken from the Holy Bible, New Living Translation, copyright © 1996. Used by permission of Tyndale House Publishers, Inc., Wheaton, Illinois 60189. All rights reserved.
For more relevant and biblical teaching from Pastor Greg Laurie, go to www.harvest.org.
SPECIAL OFFER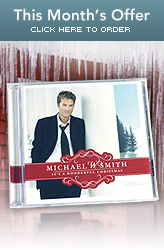 It's a Wonderful Christmas
"I hope that this ministry has been something that has brought encouragement and hope to you during this last year. Your gift is important this month because it is our desire to be there again for you this coming year."
-Greg Laurie
Michael W. Smith has put together a new Christmas album that you will want to be a part of your Christmas listening for years to come, called It's a Wonderful Christmas. This album is filled with songs that honor and glorify God, and will lift your spirits and help you remember what this season is really all about.
You can have your own copy of It's a Wonderful Christmas in appreciation for your gift sent to Harvest Ministries this month.