Tuesday, December 30, 2008
A Fresh Start
"Stand in the ways and see, and ask for the old paths, where the good way is, and walk in it; then you will find rest for your souls."
Jeremiah 6:16
As we come to the beginning of a new year and the ending of an old one, we often wish we could turn over a new leaf or gain a fresh start.
I once read about a man who was reading his morning newspaper and was shocked to find his name listed in the obituary column. He called up the newspaper and was outraged that they had made such a mistake. "This is terrible," he screamed, "How could you do this to me?"
The newspaper's explanation did not satisfy the man, so he stormed down to their office and demanded to see the editor. After some time of screaming and yelling, the editor grew frustrated and said, "Look buddy! Cheer up. I'll put your name in the birth column tomorrow and you can have a fresh start."
You may laugh at a story like that, but wouldn't it be great just to start over again. In reality, as a Christian you can have a fresh start. 2009 is still a blank slate. There are opportunities ahead of you. You decide which course you are going to take.
In Jeremiah 6:16, God says, " 'Stand in the ways and see, and ask for the old paths, where the good way is, and walk in it; then you will find rest for your souls.' "
You decide which path you are going to walk in this coming year. You decide what your priorities will be and what direction you will take. Those are decisions that each of us will make each and every day.
In 2009, choose the good way and walk in it. Only there will you find peace.
Copyright © 2008 by Harvest Ministries. All rights reserved.
Scripture taken from the New King James Version. Copyright © 1982 by Thomas Nelson, Inc. Used by permission. All rights reserved. Bible text from the New King James Version is not to be reproduced in copies or otherwise by any means except as permitted in writing by Thomas Nelson, Inc., Attn: Bible Rights and Permissions, P.O. Box 141000, Nashville, TN 37214-1000
For more relevant and biblical teaching from Pastor Greg Laurie, go to www.harvest.org.
SPECIAL OFFER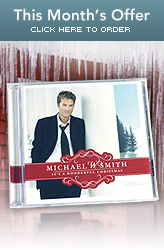 It's a Wonderful Christmas
"I hope that this ministry has been something that has brought encouragement and hope to you during this last year. Your gift is important this month because it is our desire to be there again for you this coming year."
-Greg Laurie
Michael W. Smith has put together a new Christmas album that you will want to be a part of your Christmas listening for years to come, called It's a Wonderful Christmas. This album is filled with songs that honor and glorify God, and will lift your spirits and help you remember what this season is really all about.
You can have your own copy of It's a Wonderful Christmas in appreciation for your gift sent to Harvest Ministries this month.