Monday, December 8, 2008
Secrets to Marital Bliss
Therefore a man shall leave his father and mother and be joined to his wife, and they shall become one flesh. —Genesis 2:24
When asked on his fiftieth wedding anniversary for his secret to marital bliss and longevity, Henry Ford replied, "Just the same as in the automobile business. Stick to one model."
Mr. Ford's marital advice is grounded in the biblical principle of leaving and cleaving. Genesis 2:24 explains that marriage begins with leaving. Leaving is the act of altering all other relationships in your life. You still honor your parents and maintain ties with friends, but no relationship in your life may take precedence over the relationship with your spouse.
What happens in many marriages is this process of leaving never takes place. If you're closer to another person than you are to your spouse, then you need to make a change. The husband's full commitment must be to his wife, and the wife's full commitment must be to her husband.
The Bible then tells us that we are to cleave, or join, to our spouses (see verse 24b). The word cleave means to cement together, to stick like glue, or to be welded together so the two cannot be separated without serious damage to both. In other words, you and your wife are one. Not only that, but you should be best friends.
It's good to have other friends. Husbands, have some guys you pal around with. Wives, have girls you hang out with. But there should only be one best friend in your life—and it must be your spouse.
Henry Ford was right, the secret to a loving marriage is to stick to one model—and that begins with leaving and cleaving.
Copyright © 2008 by Harvest Ministries. All rights reserved.
Scripture taken from the New King James Version. Copyright © 1982 by Thomas Nelson, Inc. Used by permission. All rights reserved. Bible text from the New King James Version is not to be reproduced in copies or otherwise by any means except as permitted in writing by Thomas Nelson, Inc., Attn: Bible Rights and Permissions, P.O. Box 141000, Nashville, TN 37214-1000.
For more relevant and biblical teaching from Pastor Greg Laurie, go to www.harvest.org.
SPECIAL OFFER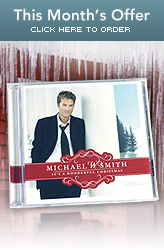 It's a Wonderful Christmas
"I hope that this ministry has been something that has brought encouragement and hope to you during this last year. Your gift is important this month because it is our desire to be there again for you this coming year."
-Greg Laurie
Michael W. Smith has put together a new Christmas album that you will want to be a part of your Christmas listening for years to come, called It's a Wonderful Christmas. This album is filled with songs that honor and glorify God, and will lift your spirits and help you remember what this season is really all about.
You can have your own copy of It's a Wonderful Christmas in appreciation for your gift sent to Harvest Ministries this month.