Thursday, February 25, 2010
Never Say Never
Pride goes before destruction, and a haughty spirit before a fall.
—Proverbs 16:18
Don't ever say, "I will never fall in this one area. No matter what, I will never. . . ." Watch out. If you think you are invincible, that is probably the very area in which you will end up falling. You don't know what you are capable of.
If you look at a certain sin and think, It is just a small compromise. I can do this little thing one time. It will never lead to anything else. I can handle this one thing . . . be careful. An unguarded strength is a double weakness. The Bible says, "Pride goes before destruction, and a haughty spirit before a fall" (Proverbs 16:18).
Satan is smart. Don't underestimate him. Watch your thoughts, because most temptations will start there. The devil will come and say, "Wouldn't it be fun to . . . ?" And then you have a choice.
It is not a sin to be tempted. The sin is not in the bait; it is in the bite. Just because bait was dangled before you doesn't mean that you have done anything wrong. The very fact that you are moving forward spiritually means you will get tempted, because the devil wants to bring you down. So if you have faced temptation and attack, that probably means you are doing something right.
The devil will come to you with things that are enticing, so keep up your guard at all times. It is the little deals we make with the devil, so to speak, it is the little compromises, the small things that we lower our guard on that lead to bigger things later. Most people, when they fall into sin, do not fall for a big sin straightaway. It is a series of smaller things that lead to the big thing.
Copyright © 2010 by Harvest Ministries. All rights reserved.
Scripture taken from the New King James Version. Copyright © 1982 by Thomas Nelson, Inc. Used by permission. All rights reserved.
For more relevant and biblical teaching from Pastor Greg Laurie, go to www.harvest.org
and
to listen to Greg Laurie's daily broadcast on OnePlace.com, click here.
SPECIAL OFFER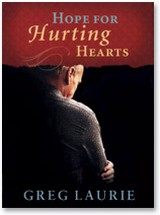 Hope for Hurting Hearts
In times of tragedies and trials, certain things become evident:
This life will have its sorrows
God loves us
Jesus weeps in our times of pain
God can be glorified through human suffering
Hope for Hurting Hearts, Pastor Greg Laurie's new book, examines these truths, revealing God's love and care for us, and shows how we can find hope, even in the midst of the most unbearable pain and sorrow.
You can have your own copy of Hope for Hurting Hearts by Greg Laurie in appreciation for your gift to Harvest Ministries this month.