Thursday, February 26, 2009
God Can Use You
For the eyes of the Lord run to and fro throughout the whole earth, to show Himself strong on behalf of those whose heart is loyal to Him.
—2 Chronicles 16:9
Think of all the ordinary people God has used to turn this world upside down.
Think of that shepherd boy David, who God raised up to be the greatest king in the history of Israel. God used that frightened man Gideon to lead a great army and he turned out to be a man of courage and valor.
A simple Jewish girl named Esther saved her people from destruction because she stood up for what was right. God used Deborah to lead the armies of Israel into battle when everyone else was afraid.
God called two ordinary fishermen, Peter and John, to speak His Word with boldness.
You see, God can use ordinary people like you. As the Scripture says, "For the eyes of the Lord run to and fro throughout the whole earth, to show Himself strong on behalf of those whose heart is loyal to Him" (2 Chronicles 16:9).
God clearly looks for ordinary people to turn this world upside down. There exists a place and a calling for every one of us. We all have something to do for the Lord.
God can do a lot with a little. My life is evidence of that! God changed me, and He can change you. When you have been with Jesus, God can use you.
Copyright © 2009 by Harvest Ministries. All rights reserved.
Scripture taken from the New King James Version. Copyright © 1982 by Thomas Nelson, Inc. Used by permission. All rights reserved. Bible text from the New King James Version is not to be reproduced in copies or otherwise by any means except as permitted in writing by Thomas Nelson, Inc., Attn: Bible Rights and Permissions, P.O. Box 141000, Nashville, TN 37214-1000.
For more relevant and biblical teaching from Pastor Greg Laurie, go to www.harvest.org.
SPECIAL OFFER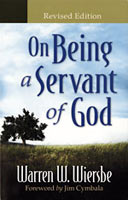 On Being a Servant of God
"I don't know of a better resource for you to add to your bookshelf than On Being a Servant of God. Written by one of the great communicators in the church, Warren Wiersbe, it is a book that I believe will enrich your life."
-Greg Laurie
On Being a Servant of God invites you to listen in on the thirty short "armchair chats" to gain practical and encouraging insights that will increase your desire to serve the Lord for His glory.
You can have your own copy of On Being a Servant of God in appreciation for your gift to Harvest Ministries this month.