From Resisting to Resting
And He said, "Your name shall no longer be called Jacob, but Israel; for you have struggled with God and with men, and have prevailed." —Genesis 32:28
Jacob, the son of Isaac and the grandson of Abraham, was a conniver. He just couldn't wait on God's timing. On the day that Jacob and his twin brother Esau were born, Esau came first, with Jacob holding on to his brother's foot. That is how Jacob earned his name, which means "heel-catcher."
When they were older, Jacob not only convinced Esau to sell him his birthright for some stew, but he also tricked their father into giving him the blessing that was intended for Esau. Esau wanted to kill him, so Jacob went into exile and ended up working for a guy he really deserved: Laban, who was as much of a conniver as Jacob was.
Eventually Jacob made the journey back home again, and on the way, the Bible tells us in Genesis 32 that "Jacob was left alone; and a Man wrestled with him until the breaking of day" (verse 24). It was as though God said, "You are always struggling and fighting with me, so let's go for it."
Now Jacob was one tough guy, and he wouldn't give up. Consequently, God touched the socket of his hip so that it was out of joint. That made Jacob cling to this messenger from heaven, and he said, "I will not let You go unless You bless me!" (verse 26). Jacob went from resisting to resting. Instead of fighting with God, he was surrendering to God, so God gave him a new name.
Are you wrestling with God? We wrestle with Him when He reveals His will to us and we say we want our will instead. How much better it is when we surrender to Him. Corrie ten Boom said, "Don't wrestle, just nestle." Don't fight with the One who has your best interests in mind.
Copyright © 2011 by Harvest Ministries. All rights reserved.
Scripture taken from the New King James Version. Copyright © 1982 by Thomas Nelson, Inc. Used by permission. All rights reserved.
For more relevant and biblical teaching from Pastor Greg Laurie, go to www.harvest.org
and
Listen to Greg Laurie's daily broadcast on OnePlace.com.
Watch Greg Laurie's weekly television broadcast on LightSource.com.
SPECIAL OFFER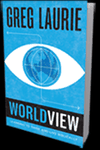 In appreciation for your gift this month to Harvest Outreach Ministries, we want to send you Worldview: Learning to Think and Live Biblically.
"We can't allow our emotions to dictate our worldview; rather, we must base our worldview on absolute truth. And the only place where you can find that absolute truth is in the pages of Scripture." —Greg
You can receive your own copy of Worldview: Learning to Think and Live Biblically in appreciation for your gift today to Harvest Ministries. This resource outlines the principles for you to build or rebuild a proper biblical foundation for your life.