Monday, February 9, 2009
Crowns in Heaven
Blessed is the man who endures temptation; for when he has been approved, he will receive the crown of life which the Lord has promised to those who love Him.
—James 1:12
As Christians, one day we will receive rewards for our service to the Lord. I don't know about you, but I have not acquired a vast number of awards in my life. I have mostly won those purple honorable mention ribbons. They are just not as exciting as a big first place trophy!
But Jesus told us that our service to God, even it if is not seen by people, is indeed seen by God. He says, " 'Your Father who sees in secret will Himself one day reward you openly' " (Matthew 6:4).
The Bible speaks of crowns that will be given as rewards in heaven. One of them is called the soul winner's crown, also known as the crown of rejoicing: "For what is our hope, or joy, or crown of rejoicing? Is it not even you in the presence of our Lord Jesus Christ at His coming?" (1 Thessalonians 2:19).
The Bible also speaks of the crown of life: "Blessed is the man who endures temptation; for when he has been approved, he will receive the crown of life which the Lord has promised to those who love Him" (James 1:12).
Thirdly, there is the crown of righteousness: "Finally, there is laid up for me the crown of righteousness, which the Lord, the righteous Judge, will give to me on that Day, and not to me only but also to all who have loved His appearing" (2 Timothy 4:8). There is a reward waiting for the believer who longs for His return, who loves Him, who is homesick for heaven.
Copyright © 2009 by Harvest Ministries. All rights reserved.
Scripture taken from the New King James Version. Copyright © 1982 by Thomas Nelson, Inc. Used by permission. All rights reserved. Bible text from the New King James Version is not to be reproduced in copies or otherwise by any means except as permitted in writing by Thomas Nelson, Inc., Attn: Bible Rights and Permissions, P.O. Box 141000, Nashville, TN 37214-1000.
For more relevant and biblical teaching from Pastor Greg Laurie, go to www.harvest.org.
SPECIAL OFFER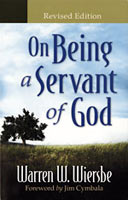 On Being a Servant of God
"I don't know of a better resource for you to add to your bookshelf than On Being a Servant of God. Written by one of the great communicators in the church, Warren Wiersbe, it is a book that I believe will enrich your life."
-Greg Laurie
On Being a Servant of God invites you to listen in on the thirty short "armchair chats" to gain practical and encouraging insights that will increase your desire to serve the Lord for His glory.
You can have your own copy of On Being a Servant of God in appreciation for your gift to Harvest Ministries this month.