Tuesday, January 19, 2010
Always God
In the beginning the Word already existed. The Word was with God, and the Word was God. He existed in the beginning with God.
—John 1:1-2
Before there was a world, before there were planets, before there was light or darkness, before there was anything but the Godhead, there was Jesus, a member of the Trinity. He is coequal, coeternal, and coexistent with the Father and the Holy Spirit. He was with God, and He was God. Then He came to this earth as a man. He entered our world, He breathed our air, He shared our pain, and He walked in our shoes—and then some. He lived our life, and then He died our death.
Jesus did not become identical with us; He became identified with us. That is an important distinction. No one was ever more identified with humanity than Jesus. It was total identification without any loss of identity. He became one of us without ceasing to be himself. He became human without ceasing to be God. Jesus did not exchange deity for humanity; He was deity in humanity.
The Bible is clear in making the point that Jesus was God and that He was the Creator of the universe. We are told that "God created everything through him, and nothing was created except through him" (John 1:3). And Colossians 1:16 tells us, "For through him God created everything in the heavenly realms and on earth. He made the things we can see and the things we can't see—such as thrones, kingdoms, rulers, and authorities in the unseen world. Everything was created through him and for him."
Jesus is the most controversial figure who has ever lived. Many preach on Him and speak about Him. Some have it right. Some don't. He is loved, adored, worshipped, and followed by some. He is hated, despised, and rejected by others. He is disregarded and ignored by most. Yet Jesus is God.
Copyright © 2010 by Harvest Ministries. All rights reserved.
Scripture quotations are taken from the Holy Bible, New Living Translation, copyright 1996, 2004. Used by permission of Tyndale House Publishers, Inc., Wheaton, Illinois 60189. All rights reserved.
For more relevant and biblical teaching from Pastor Greg Laurie, go to www.harvest.org
and
to listen to Greg Laurie's daily broadcast on OnePlace.com, click here.
SPECIAL OFFER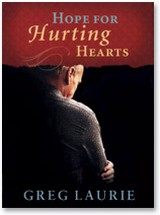 Hope for Hurting Hearts
In times of tragedies and trials, certain things become evident:
This life will have its sorrows
God loves us
Jesus weeps in our times of pain
God can be glorified through human suffering
Hope for Hurting Hearts, Pastor Greg Laurie's new book, examines these truths, revealing God's love and care for us, and shows how we can find hope, even in the midst of the most unbearable pain and sorrow.
You can have your own copy of Hope for Hurting Hearts by Greg Laurie in appreciation for your gift to Harvest Ministries this month.