Tuesday, January 20, 2009
The Miserable Life
So Lot went out and spoke to his sons-in-law, who had married his daughters, and said, "Get up, get out of this place; for the Lord will destroy this city!" But to his sons-in-law he seemed to be joking.
—Genesis 19:14
When you attempt to live both for God and the world, you resemble that poor, confused soldier in the Civil War who couldn't decide what side he wanted to fight for. So he wore the coat from the Union and the pants from the Confederates. Then he marched onto the battlefield and got shot at from both sides.
If you attempt to live in both worlds, you will end up living a miserable life.
Living for both worlds—the life of compromise—is a dangerous thing. Just take a look at the life of Lot, the classic compromiser. Granted, he was a believer, but he made numerous mistakes.
Lot lived in the wicked city of Sodom and eventually became a leader in the city. But he was so bound up in sin that when he went to tell his sons-in-law that the judgment of God was coming, they laughed and thought he was joking.
There was no power in his witness, because he lived a compromised life.
Is that happening to you? Are you getting weaker and weaker spiritually? Do the things that once made you blush no longer shock you? Do you find yourself becoming more and more tolerant of that which is evil and less interested in that which is spiritual? Do you find that your words seem to have no effect on the nonbelievers you share them with?
Such is the peril of the compromiser. They don't pull others up. Others pull them down.
Copyright © 2009 by Harvest Ministries. All rights reserved.
Scripture taken from the New King James Version. Copyright © 1982 by Thomas Nelson, Inc. Used by permission. All rights reserved. Bible text from the New King James Version is not to be reproduced in copies or otherwise by any means except as permitted in writing by Thomas Nelson, Inc., Attn: Bible Rights and Permissions, P.O. Box 141000, Nashville, TN 37214-1000.
For more relevant and biblical teaching from Pastor Greg Laurie, go to www.harvest.org.
SPECIAL OFFER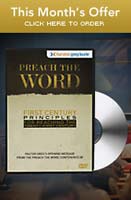 First Century Principles for Reaching the Twenty-First Century
"I want you to grow and understand how God uses preaching in His plan for you and for the world."
-Greg Laurie
The First Century Principles for Reaching the Twenty-First Century DVD features Pastor Greg Laurie's message from the 2008 Preach the Word Conference, and will help you understand the importance of strong biblical preaching, and how you can get more out of listening to a sermon.
You can have your own copy of First Century Principles for Reaching the Twenty-First Century DVD in appreciation for your gift to Harvest Ministries this month. Every gift will go a long way as we begin a new year of ministry.