Friday, January 23, 2009
The Perfect Storm
In this you greatly rejoice, though now for a little while, if need be, you have been grieved by various trials, that the genuineness of your faith, being much more precious than gold that perishes, though it is tested by fire, may be found to praise, honor, and glory at the revelation of Jesus Christ...
—1 Peter 1:6–7
You never know when a storm will hit. In October, 1991, Hurricane Grace collided with a cold front from Canada and a storm from the Great Lakes off the coast of Nova Scotia, creating what meteorologists called "the perfect storm." With waves a hundred feet tall and winds over ninety-five miles an hour, this storm-of-the-century left little warning when it struck its victims.
On October 27, a sword-fishing boat named the Andrea Gail, and its six-man crew, headed home from Grand Banks, Canada, with a hold full of fish. Sometime in the middle of the night, the Andrea Gail found herself at the center of the perfect storm. "She's comin' on, boys, and she's comin' on strong," radioed Captain Billy Tyne of the Andrea Gail.
Soon after, Billy Tyne and his five crew mates disappeared without a trace. They were never seen again.
Maybe you have been hit by a storm like that. Not a literal storm, but a crisis or tragedy that hit your life without warning, leaving you ravaged and riddled with problems.
We all face storms in life. It has been said that only two kinds of people exist in this world: those who are going through a crisis and those who are about to go through a crisis.
Let me tell you something that might surprise you. Storms can be good. We can learn lessons in storms that we can learn nowhere else, producing fruit in your life as a Christian.
The next time the storms of life rain on your life, don't be discouraged. God might just be refining your faith so that you can better praise, honor, and glory at the revelation of Jesus Christ.
Copyright © 2009 by Harvest Ministries. All rights reserved.
Scripture taken from the New King James Version. Copyright © 1982 by Thomas Nelson, Inc. Used by permission. All rights reserved. Bible text from the New King James Version is not to be reproduced in copies or otherwise by any means except as permitted in writing by Thomas Nelson, Inc., Attn: Bible Rights and Permissions, P.O. Box 141000, Nashville, TN 37214-1000.
For more relevant and biblical teaching from Pastor Greg Laurie, go to www.harvest.org.
SPECIAL OFFER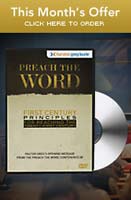 First Century Principles for Reaching the Twenty-First Century
"I want you to grow and understand how God uses preaching in His plan for you and for the world."
-Greg Laurie
The First Century Principles for Reaching the Twenty-First Century DVD features Pastor Greg Laurie's message from the 2008 Preach the Word Conference, and will help you understand the importance of strong biblical preaching, and how you can get more out of listening to a sermon.
You can have your own copy of First Century Principles for Reaching the Twenty-First Century DVD in appreciation for your gift to Harvest Ministries this month. Every gift will go a long way as we begin a new year of ministry.