Monday, January 4, 2010
A Reasonable Faith
"Come now, and let us reason together," says the Lord, "Though your sins are like scarlet, they shall be as white as snow; though they are red like crimson, they shall be as wool."
—Isaiah 1:18
A recent poll revealed that half of Americans who describe themselves as Christians do not believe that Satan exists, and one-third are confident that Jesus sinned while He was on Earth. Pollster George Barna concluded, "Growing numbers of people now serve as their own theologian-in-residence." The Bible teaches there is a literal devil and that Jesus, the Son of God, never sinned. These things are Christianity 101, yet so many people who profess to be believers don't understand them.
As believers, we need to realize that Christianity is a reasonable faith. It is a logical faith. We do not have to check our brains at the door when we choose to be followers of Jesus Christ, because God says, "Come now, and let us reason together . . . " (Isaiah 1:18). God is effectively saying, "Let's get this right. Get this straightened out in your mind. Understand these things."
As believers, we need to think and act biblically, not emotionally. Yet far too many people today emote when it comes to God. They feel. They don't think. They will say things like, "Well, I don't believe in a God of love judging anyone." Or, "My God would never. . . . " Or, the all-time classic: "Well, I am not into organized religion. I am just a really spiritual person." But we need to think carefully about these things. We need to study God.
We neglect theology, the study of God, to our own peril. C. S. Lewis warned, "If you do not listen to theology, that will not mean that you have no ideas about God. It will mean that you have a lot of wrong ones."
Our experience is never to be the basis for theology; rather, sound theology should be the basis for our experience.
Copyright © 2010 by Harvest Ministries. All rights reserved.
Scripture taken from the New King James Version. Copyright © 1982 by Thomas Nelson, Inc. Used by permission. All rights reserved.
For more relevant and biblical teaching from Pastor Greg Laurie, go to www.harvest.org
and
to listen to Greg Laurie's daily broadcast on OnePlace.com, click here.
SPECIAL OFFER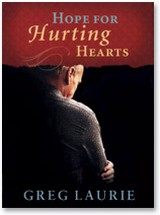 Hope for Hurting Hearts
In times of tragedies and trials, certain things become evident:
This life will have its sorrows
God loves us
Jesus weeps in our times of pain
God can be glorified through human suffering
Hope for Hurting Hearts, Pastor Greg Laurie's new book, examines these truths, revealing God's love and care for us, and shows how we can find hope, even in the midst of the most unbearable pain and sorrow.
You can have your own copy of Hope for Hurting Hearts by Greg Laurie in appreciation for your gift to Harvest Ministries this month.