Wednesday, July 16, 2008
Preaching the Cross For Jews request a sign, and Greeks seek after wisdom; but we preach Christ crucified, to the Jews a stumbling block and to the Greeks foolishness, but to those who are called, both Jews and Greeks, Christ the power of God and the wisdom of God. (1 Corinthians 1:22-24)
We may look with some envy on first-century believers who seemed to have miracles as part of their daily lives. Certainly, there were dramatic miracles that took place during their time.
We read of great things happening, such as the man at the gate Beautiful who received the ability to walk. Peter was released from prison by an angel. A woman was raised from the dead. We can look back on that time with some fondness and say, "Those were the good old days."
Realistically, though, I think we should recognize that the Book of Acts is a record of what God did over a 30-year period. As we read it, it almost appears as though miracles happened every 12 minutes. But the truth is that it's a record of miracles that took place over a long period of time.
Some Christians may think that if they could perform a sign or miracle for the unbelievers they know, then they would believe. But here is the sign they need to know about: what Jesus accomplished on the cross.
It is the preaching of the cross that will make the difference. "We preach Christ crucified," Paul said. That is our message. That is what we have to say.
Paul said, "For I determined not to know anything among you except Jesus Christ and Him crucified" (1 Corinthians 2:2)
Though I believe in miracles and hope to see more in my lifetime, one thing will never change: the simple message we must proclaim.
Copyright © 2008 by Harvest Ministries. All rights reserved. Scripture quotations are taken from The Holy Bible, New King James Version, copyright © 1982 by Thomas Nelson, Inc.
For more relevant and biblical teaching from Pastor Greg Laurie, go to www.harvest.org.
SPECIAL OFFER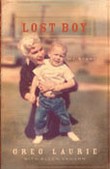 Lost Boy
The Bible says, "If any man be in Christ, he is an altogether different kind of person. Old things have passed away. Everything becomes fresh and new." That is the truth I want you and everyone who reads this book to come away with. And it is a message not just of hope, but also of Christ's redemptive power.
-Greg Laurie
You can have your own copy of the book Lost Boy in appreciation for your gift sent to Harvest Ministries this month.