Greg Laurie Daily Devotion - June 24, 2008

Tuesday, June 24, 2008
Proclaiming Christ
"But we preach Christ crucified. . . ." (1 Corinthians 1:23)
Today, people are standing up and being counted for many things. In fact, I am amazed at the perverse, even horrendous things people will speak up for and what some are even willing to die for. Yet here we are with the life-changing message of the gospel, and often we hide in shame or are embarrassed by what we have to say.
But it is time for us to stand up and be counted as well. Jesus said, "For whoever is ashamed of Me and My words in this adulterous and sinful generation, of him the Son of Man also will be ashamed when He comes in the glory of His Father with the holy angels" (Mark 8:38).
In the first century, the thought of Jesus dying on the cross was scandalous to the Jews. The Greeks, who prided themselves on their cultural and intellectual attainments, thought it was nonsense.
But the apostle Paul said, "We preach Christ crucified, to the Jews a stumbling block and to the Greeks foolishness, but to those who are called, both Jews and Greeks, Christ the power of God and the wisdom of God." (1 Corinthians 1:23–24).
Are you ashamed of the simple message of the gospel? I hope you're not ashamed of the gospel of Christ, because God's righteousness is revealed in it.
You see, we have our own sense of righteousness and our own sense of what is right and wrong. But God's righteousness is a lot different than ours. It is only at the cross that the righteous requirements of the law and of God are satisfied. It is impossible to fulfill them apart from the cross.
So it is through the gospel that the righteousness of God is revealed.
Copyright © 2008 by Harvest Ministries. All rights reserved. Scripture quotations are taken from the Holy Bible, New King James Version, copyright © 1982 by Thomas Nelson, Inc.
For more relevant and biblical teaching from Pastor Greg Laurie, go to www.harvest.org.
SPECIAL OFFER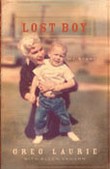 Lost Boy
The Bible says, "If any man be in Christ, he is an altogether different kind of person. Old things have passed away. Everything becomes fresh and new." That is the truth I want you and everyone who reads this book to come away with. And it is a message not just of hope, but also of Christ's redemptive power.
-Greg Laurie
You can have your own copy of the book Lost Boy in appreciation for your gift sent to Harvest Ministries this month.