Tuesday, June 29, 2010
Skepticism or Unbelief?
In the day of my trouble I will call upon You, for You will answer me.
—Psalm 86:7
It is not a bad thing to be skeptical. Sometimes we can be a little too gullible and a little too willing to believe anything that is said. The Bible does say that, as Christians, we are to be discerning. It also tells us that we are to test all things according to Scripture (see 1 Thessalonians 5:21). Having said that, there is also a difference between skepticism and unbelief.
Skepticism might be a sign that you are thinking, that you are reasoning it out. Even God says, "Come now, and let us reason together..." (Isaiah 1:18). But unbelief is different. Unbelief says, "I refuse to believe. I choose to not believe what God says in His Word."
The Bible records one of the darkest moments in the history of Israel. The economy had completely collapsed, a famine had swept the land, and the king was powerless to do anything about it. But God promised to change things. Through his servant Elisha, he delivered the message that food was going to be affordable "tomorrow about this time" (2 Kings 7:1). But the king's aide said that was impossible, so Elisha told this unbelieving man that he would see it happen, but he would not be eating any of it. And sure enough, that man died the next day. He was unwilling to believe God's solution, which was a spiritual one.
The king's aide was full of unbelief. And Hebrews 11:6 says, "But without faith it is impossible to please Him, for he who comes to God must believe that He is, and that He is a rewarder of those who diligently seek Him." What is your challenge? What things are troubling you today? There is a spiritual solution. And God has told us to call upon Him in the day of trouble.
Copyright © 2010 by Harvest Ministries. All rights reserved.
Scripture taken from the New King James Version. Copyright © 1982 by Thomas Nelson, Inc. Used by permission. All rights reserved.
For more relevant and biblical teaching from Pastor Greg Laurie, go to www.harvest.org
and
Listen to Greg Laurie's daily broadcast on OnePlace.com.
Watch Greg Laurie's weekly television broadcast on LightSource.com.
SPECIAL OFFER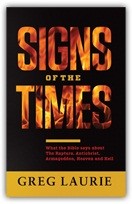 Focused on events right before our eyes...
"I want to send you Signs of the Times in appreciation for your support of Harvest Outreach this month. Why is your support important today? Because I am convinced that the proclamation of the gospel has never been more critical, on the radio, at evangelistic outreach events, online, and through resources like Signs of the Times that are relevant and timely. We preach and teach around the clock... and it is the support of friends like you that make it possible. Your gift helps send out the call to wake up, for the coming of the Lord is near!"
—Pastor Greg Laurie
You can have your own copy of Greg Laurie's Signs of the Times in appreciation for your gift to Harvest Ministries this month.