Wednesday, June 4, 2008
Straining toward the Goal
"I press toward the goal for the prize of the upward call of God in Christ Jesus." (Philippians 3:14)
The word used for "press" in Philippians 3:14 carries in the meaning of "strong exertion." Every muscle of the runner is burning. He can see the ribbon. He has only a few more feet to go in the race. He must press on.
It is the same in our lives as Christians. There are times when it just gets hard. But it is then that we learn what it means to walk by faith and not by feeling. You can't live on an emotional high as a Christian. You must pace yourself in this race you are running. You can't expect that every time you go to church, you will have some great emotional encounter with God. Sometimes you will. Sometimes you won't. Growing up and learning to walk by faith are part of spiritual maturity.
When you first made a commitment to Christ, you discovered the joy and wonderful peace that comes from being forgiven. But you must realize that this is a walk by faith. You must press on even when it gets hard.
Maybe, as you have been running, you have found yourself in a place where you are dragging burdens, sins, or other things along. Maybe you find that you don't even know why you are running the race anymore. Maybe you have become discouraged.
Look up and remember that it is Jesus whom you are running for. Two thousand years ago, He loved you so much that He went to the cross and died there. He shed His blood for you. Then He rose again from the dead. Because He did that for you, you can live for Him today. He will give you the strength.
Copyright © 2008 by Harvest Ministries. All rights reserved. Scripture quotations are taken from the Holy Bible, New King James Version, copyright © 1982 by Thomas Nelson, Inc.
For more relevant and biblical teaching from Pastor Greg Laurie, go to www.harvest.org.
SPECIAL OFFER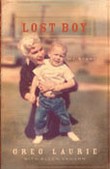 Lost Boy
The Bible says, "If any man be in Christ, he is an altogether different kind of person. Old things have passed away. Everything becomes fresh and new." That is the truth I want you and everyone who reads this book to come away with. And it is a message not just of hope, but also of Christ's redemptive power.
-Greg Laurie
You can have your own copy of the book Lost Boy in appreciation for your gift sent to Harvest Ministries this month.