Greg Laurie daily devotion - Mar. 17, 2011

Thursday, March 17, 2011
A Positive Influence
"Let your light so shine before men, that they may see your good works and glorify your Father in heaven."—Matthew 5:16
When I was in elementary school, we had a little game that we would play in which we would touch someone and say, "You have cooties." Of course, we had to have a way to defend ourselves, so when someone would touch us and claim they just gave us cooties, we would say, "Not me, I don't have cooties." Then we would hold out our hands, revealing the handwritten initials, C. P., which stood for "cootie protection."
I think Christians are sometimes that way around unbelievers. They appear as though they are avoiding all contact with them. I can understand not wanting to be influenced in a bad way. But how about influencing others in a good way?
Jesus said that as Christians, we are to be salt and light. In Jesus' day, salt was used as a preservative. It was rubbed into meat to stop the rotting process. So as salt in a culture, Christians are to stop the spread of corruption. But another thing salt does is stimulate thirst. So we are to stop the spread of corruption and stimulate a thirst for God in others.
In addition to being salt, Christians are to be light, which means that we are to proclaim the gospel and do good works. Jesus said, "Let your light so shine before men, that they may see your good works and glorify your Father in heaven" (Matthew 5:16).
We are called to be salt and light—to live a godly life. It is God's job to identify the fake Christians, to determine the true from the false.
God has planted us as believers in this world. He has put His people in the culture to influence it, to make a difference. God is not calling us as believers to isolate, but to infiltrate.
Copyright © 2011 by Harvest Ministries. All rights reserved.
Scripture taken from the New King James Version. Copyright © 1982 by Thomas Nelson, Inc. Used by permission. All rights reserved.
For more relevant and biblical teaching from Pastor Greg Laurie, go to www.harvest.org
and
Listen to Greg Laurie's daily broadcast on OnePlace.com.
Watch Greg Laurie's weekly television broadcast on LightSource.com.
SPECIAL OFFER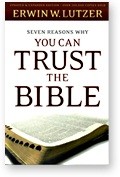 Even believers sometimes doubt...
Have you ever doubted the Bible? Have you ever had questions about how the Bible came into being? Have you wondered about the historical reliability of the Bible? Listen. Don't feel bad about that. Let us help you. Here is a great resource that will bolster your faith and help you to defend your beliefs. This book is called Seven Reasons Why You Can Trust the Bible. It is written by Greg's friend, Dr. Erwin Lutzer, who is the pastor of the famed Moody Memorial Church in Chicago, Illinois.
You can have your own copy of Seven Reasons Why You Can Trust the Bible in appreciation for your gift to Harvest Ministries this month.