Friday, March 27, 2009
Evangelize or Fossilize
The generous soul will be made rich, and he who waters will also be watered himself.
—Proverbs 11:25
If we were brutally honest, perhaps the real reason we do not want to take a new convert under our wings is because we know we are not living the Christian life as it ought to be lived.
We don't want that new believer to see our inconsistencies or our hypocrisies. We end up saying, "I don't want to take on that responsibility."
But there is another way to look at it. Maybe we need to make some changes in our lives so we can be good examples to new believers. That doesn't mean we have to be perfect.
Christians make mistakes too, and a mature believer can be a model for applying the truths of God. This is all part of the discipleship process.
There can come a point in your Christian life in which you face spiritual dryness. Has that ever happened to you? It may be that you don't necessarily need to attend more Bible studies, read more Christian books, go to more church services, or even pray more.
The real problem may be that you don't have an outlet for what you are taking in. You need an outlet for your intake, or else you will stagnate. You have a choice: either evangelize or fossilize.
When you take a new believer under your wing, you are not only helping him or her, but you are saving yourself from spiritual stagnation. New believers need our wisdom, knowledge, and experience. We need their zeal, spark, and childlike faith.
Show me a church that does not have a constant flow of new believers, and I will show you a church that is stagnating.
Copyright © 2009 by Harvest Ministries. All rights reserved.
Scripture quotations are taken from the Holy Bible, New King James Version, copyright © 1982 by Thomas Nelson, Inc. Bible text from the New King James Version is not to be reproduced in copies or otherwise by any means except as permitted in writing by Thomas Nelson, Inc., Attn: Bible Rights and Permissions, P.O. Box 141000, Nashville, TN 37214-1000.
For more relevant and biblical teaching from Pastor Greg Laurie, go to www.harvest.org.
SPECIAL OFFER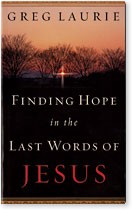 Finding Hope in the Last Words of Jesus
"For me one of the most intriguing and fascinating elements of the Easter story are the words that Jesus said as he was hanging on the cross for our sins. These seven profound statements are His last words . . . and contain some of the deepest theology and most meaningful statements in the Bible."
—Greg Laurie
Finding Hope in the Last Words of Jesus, Greg Laurie's latest book, examines each of Jesus' seven statements from the cross, and reveals Christ's humanity, His sovereignty, and why we can trust God with our lives.
You can have your own copy of Finding Hope in the Last Words of Jesus in appreciation for your gift to Harvest Ministries this month.