Monday, March 9, 2009
Let's Cross Over to the Other Side
But He said to them, "Why are you so fearful? How is it that you have no faith?"
—Mark 4:40
One day at the Sea of Galilee, Jesus said to His disciples, "Let us cross over to the other side" (Mark 4:35).
As they were making their way across, a huge storm came out of nowhere, which was a common occurrence on this large freshwater lake. The seasoned sailors were terrified as hurricane force winds hit and the boat filled with water.
Despite the bad weather, Jesus managed to sleep through it. But the disciples could no longer contain themselves.
Don't you care?
So they woke up Jesus, saying, "Teacher, do you not care that we are perishing?" (v. 38) That is really a bit accusational, but it's the way they felt.
They were saying, essentially, "Lord, are You even aware of what we are facing right now?"
"Why are You allowing this?"
As I have said, it's fine to ask why as long as you don't expect an answer. Better to cry out in anguish to God than to turn from Him in anger.
Jesus rebuked them and the storm
Jesus woke up and rebuked the storm, but then He dealt with them too, asking them, "Why are you so fearful? How is it that you have no faith?" (v. 40) Or literally, "Why are you such timid, fearful ones?"
Jesus was saying, "Boys, haven't you learned anything here?"
You see, Jesus said, "Let's cross over to the other side!" He did not say, "Let's go drown in the middle of the Sea of Galilee!"
He did not promise smooth sailing, but He did promise a safe passage.
Listen, it's better to be in a storm with Jesus than anywhere else without Him.
Or in a fiery furnace–just ask Shadrach, Meschach, and Abednego. Or in a lion's den–just ask Daniel. Or in a prison–just ask Peter. Or in a storm again or even shipwrecked–just ask Paul.
Copyright © 2009 by Harvest Ministries. All rights reserved.
Scripture taken from the New King James Version. Copyright © 1982 by Thomas Nelson, Inc. Used by permission. All rights reserved. Bible text from the New King James Version is not to be reproduced in copies or otherwise by any means except as permitted in writing by Thomas Nelson, Inc., Attn: Bible Rights and Permissions, P.O. Box 141000, Nashville, TN 37214-1000.
For more relevant and biblical teaching from Pastor Greg Laurie, go to www.harvest.org.
SPECIAL OFFER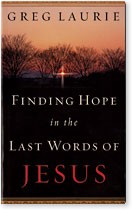 Finding Hope in the Last Words of Jesus
"For me one of the most intriguing and fascinating elements of the Easter story are the words that Jesus said as he was hanging on the cross for our sins. These seven profound statements are His last words . . . and contain some of the deepest theology and most meaningful statements in the Bible."
—Greg Laurie
Finding Hope in the Last Words of Jesus, Greg Laurie's latest book, examines each of Jesus' seven statements from the cross, and reveals Christ's humanity, His sovereignty, and why we can trust God with our lives.
You can have your own copy of Finding Hope in the Last Words of Jesus in appreciation for your gift to Harvest Ministries this month.