Wednesday, March 9, 2011
The Truth about Wealth
"Command those who are rich in this present age not to be haughty, nor to trust in uncertain riches but in the living God, who gives us richly all things to enjoy" —1 Timothy 6:17  
When Jesus said, "Do not lay up for yourselves treasures on earth" (Matthew 6:19), the term "lay up" did not simply speak of having possessions, but of your possessions having you. "Lay up" could be better translated "hoard" or "stockpile."
Jesus was not saying that it is wrong to have things. He was warning against becoming materialistic—letting things become more important than God.
God created us to love people and use things, but a materialist loves things and uses people. There is nothing wrong with having possessions and a successful career. The apostle Paul wrote, "Command those who are rich in this present age not to be haughty, nor to trust in uncertain riches but in the living God, who gives us richly all things to enjoy" (1 Timothy 6:17). God can bless a person. In fact, we read in the Bible of those who had wealth, such as Abraham, Job, David, Joseph of Arimathea, Mary, and Barnabas.
Jesus did not extol poverty as some great virtue. In fact, only one time did He tell someone—the rich young ruler—to sell his possessions and give to the poor. I think it was because that man was possessed by his possessions. Because when Jesus said, "If you want to be perfect, go, sell what you have and give to the poor, and you will have treasure in heaven; and come, follow Me" (Matthew 19:21), the Bible says that he went away sorrowful. It was a test to see whether God was more important to him than his things.
Money is not the root of all evil; the love of it is. The problem with wealth is not in having it. It is how we get it. It is how we guard it. And it is how we give it.
Copyright © 2011 by Harvest Ministries. All rights reserved.
Scripture taken from the New King James Version. Copyright © 1982 by Thomas Nelson, Inc. Used by permission. All rights 
For more relevant and biblical teaching from Pastor Greg Laurie, go to www.harvest.org
and
Listen to Greg Laurie's daily broadcast on OnePlace.com.
Watch Greg Laurie's weekly television broadcast on LightSource.com.
SPECIAL OFFER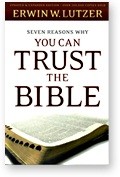 Even believers sometimes doubt...
Have you ever doubted the Bible? Have you ever had questions about how the Bible came into being? Have you wondered about the historical reliability of the Bible? Listen. Don't feel bad about that. Let us help you. Here is a great resource that will bolster your faith and help you to defend your beliefs. This book is called Seven Reasons Why You Can Trust the Bible. It is written by Greg's friend, Dr. Erwin Lutzer, who is the pastor of the famed Moody Memorial Church in Chicago, Illinois. 
You can have your own copy of Seven Reasons Why You Can Trust the Bible in appreciation for your gift to Harvest Ministries this month.