Greg Laurie Daily Devotion - May 1 ,2009

Friday, May 1, 2009
To Be Pleasing Him
I press toward the goal for the prize of the upward call of God in Christ Jesus.
—Philippians 3:14
How should we be affected by the fact that we believe in and serve a God who is truth, holy, righteous, just, good, and loving? We should seek to lead lives that please Him.
Because God is truth, we, as His children, should be truthful. Scripture says, "Lying lips are an abomination to the LORD, but those who deal truthfully are His delight" (Proverbs 12:22). Like God, we should love truth and hate falsehood.
Because God is holy we should be holy. The apostle Peter wrote, "As He who called you is holy, you also be holy in all your conduct" (1 Peter 1:15–16). So we are to seek to live a holy life.
Because God is righteous, we should be righteous. We should love anything that draws us closer to Him, and hate all that drives us from Him. The psalmist said, "You, O Lord, will bless the righteous; with favor You will surround him as with a shield" (Psalm 5:12). As we learn to love righteousness, He will bless us.
In the same way, because God is good and just and loving, we should see those character traits in our own lives.
You might say, "Well, Greg, that's hard." I know it's hard. I need help, too. I cannot do it on my own. I recognize my weakness, I recognize God's power, and I abide in Him.
Each day, I seek to do the things that help me grow and flourish spiritually. And I avoid the things that tear me down or hurt me spiritually.
Do you have a better goal for your life? I don't think so. May God help us to seek to be holy, to be righteous, to be truthful, and to honor Him in all that we say and do.
Copyright © 2009 by Harvest Ministries. All rights reserved.
Scripture taken from the New King James Version. Copyright © 1982 by Thomas Nelson, Inc. Used by permission. All rights reserved. Bible text from the New King James Version is not to be reproduced in copies or otherwise by any means except as permitted in writing by Thomas Nelson, Inc., Attn: Bible Rights and Permissions, P.O. Box 141000, Nashville, TN 37214-1000.
For more relevant and biblical teaching from Pastor Greg Laurie, go to www.harvest.org
and
to listen to Greg Laurie's daily broadcast on OnePlace.com, click here.
SPECIAL OFFER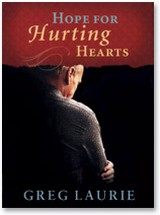 Hope for Hurting Hearts
In times of tragedies and trials, certain things become evident:
This life will have its sorrows
God loves us
Jesus weeps in our times of pain
God can be glorified through human suffering
Hope for Hurting Hearts, Pastor Greg Laurie's new book, examines these truths, revealing God's love and care for us, and shows how we can find hope, even in the midst of the most unbearable pain and sorrow.
You can have your own copy of Hope for Hurting Hearts by Greg Laurie in appreciation for your gift to Harvest Ministries this month.