Thursday, May 21, 2009
The Urgency of the Hour
Then He said to His disciples, "The harvest truly is plentiful, but the laborers are few." 
—Matthew 9:37
In his poem, "The Second Coming," William Butler Yeats wrote, "The best lack all conviction, while the worst are full of passionate intensity." 
What a summary of the times in which we are living today: the worst have their passionate intensity, while the best lack all conviction.
While the church today dabbles with liberal concepts and even questions the authority of the Word of God in some aspects, the world outside our doors is running headlong into sin. 
When will we wake up?  When are we going to get out there and get the gospel to the world?  The world is pursuing its wickedness like never before. 
It is amazing how some people who believe in wicked, vile things will dedicate their entire lives to the promotion of those concepts.  Meanwhile, there are so many Christians who know the Bible more than adequately, but won't even lift a finger to get the gospel out to someone who lives right next to them. 
What is it going to take?  We need to wake up to the urgency of the hour.
A survey among evangelical Christians revealed that 95 percent of those polled had never led another person to Christ.  Yet Jesus gave us His marching orders.  He said, "Go therefore and make disciples of all the nations, baptizing them in the name of the Father and of the Son and of the Holy Spirit, teaching them to observe all things that I have commanded you . . . " (Matthew 28:19–20). 
This is an order from our commander-in-chief, and it isn't merely addressed to pastors or missionaries.  It's addressed to every man or woman who names the name of Christ.
Copyright © 2009 by Harvest Ministries.  
Scripture taken from the New King James Version.  Copyright © 1982 by Thomas Nelson, Inc.  Used by permission.  All rights reserved.  Bible text from the New King James Version is not to be reproduced in copies or otherwise by any means except as permitted in writing by Thomas Nelson, Inc., Attn: Bible Rights and Permissions, P.O. Box 141000, Nashville, TN 37214-1000. 
For more relevant and biblical teaching from Pastor Greg Laurie, go to www.harvest.org
and
to listen to Greg Laurie's daily broadcast on OnePlace.com, click here.
SPECIAL OFFER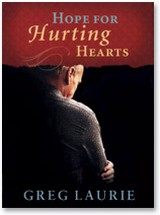 Hope for Hurting Hearts
In times of tragedies and trials, certain things become evident:
This life will have its sorrows
God loves us
Jesus weeps in our times of pain
God can be glorified through human suffering
Hope for Hurting Hearts, Pastor Greg Laurie's new book, examines these truths, revealing God's love and care for us, and shows how we can find hope, even in the midst of the most unbearable pain and sorrow.
You can have your own copy of Hope for Hurting Hearts by Greg Laurie in appreciation for your gift to Harvest Ministries this month.