Friday, May 6, 2011
Our Generous God
The generous soul will be made rich, and he who waters will also be watered himself. —Proverbs 11:25
The amazing thing in the story about the Feeding of the Five Thousand is how the miracle was done. God could have done it any way He wanted. It could have rained bread from heaven. But He did it through natural means. The supernatural worked through the natural.
Jesus told the disciples to have the multitude break into groups of 50 and 100. Then the Bible tells us, "And when He had taken the five loaves and the two fish, He looked up to heaven, blessed and broke the loaves, and gave them to His disciples to set before them; and the two fish He divided among them all" (Mark 6:41). The disciples kept distributing the food, and it multiplied as they gave it out.
Jesus said, "Give, and it will be given to you: good measure, pressed down, shaken together, and running over will be put into your bosom. For with the same measure that you use, it will be measured back to you" (Luke 6:38). God will bless generosity. Proverbs 11:25 says, "The generous soul will be made rich, and he who waters will also be watered himself."
As we give, God will bless us. As we distribute, God will give us more. Matthew 14:20 offers this detail about the Feeding of the Five Thousand: "So they all ate and were filled, and they took up twelve baskets full of the fragments that remained." Jesus gave them more than they needed. And this reminds us that we serve a generous God.
Are you willing to pass on what God has given you? Or, are you trying to hold on to it all? As the disciples distributed the food that God had multiplied, everyone was blessed. Everyone had their part. God gives us gifts. We need to use them for His glory.
Copyright © 2011 by Harvest Ministries. All rights reserved.
Scripture taken from the New King James Version. Copyright © 1982 by Thomas Nelson, Inc. Used by permission. All rights reserved.
For more relevant and biblical teaching from Pastor Greg Laurie, go to www.harvest.org
and
Listen to Greg Laurie's daily broadcast on OnePlace.com.
Watch Greg Laurie's weekly television broadcast on LightSource.com.
SPECIAL OFFER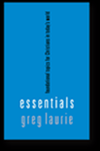 Theology without apology!
There is nothing in this book that is not essential for a Christian to build a strong foundation on the Word of God. It is a book that you will come back to over and over again, as you brush up on that which really matters in life. It really does contain the essentials.
I want to send you your personal copy of Essentials in appreciation for your gift to Harvest this month. You can take the biblical doctrine you find in it's pages and run with it and live it. I would describe Essentials as theology without apology.
You can have your own copy of Essentials in appreciation for your gift to Harvest Ministries this month.