Monday, November 10, 2008
Ready to Move
For shoes, put on the peace that comes from the Good News, so that you will be fully prepared. (Ephesians 6:15)
The sandals or shoes Paul describes in Ephesians 6 not only provide stability to help the believer hold ground, they also provide mobility. These are not dress shoes that are uncomfortable or that you want to keep perfectly clean. These shoes will allow you to move at a moment's notice.
As 1 Peter 3:15 tells us, "If you are asked about your Christian hope, always be ready to explain it." In the original language, these words communicate the idea of giving a defense, as in a court of law.
So we should always be ready to give a defense of what we believe. We need to be ready at a moment's notice to seize opportunities to share the gospel.
Some people say, "The Lord never opens up opportunities for me to share my faith." I think He does, but I think often we are not paying attention. Opportunities are all around us. Sometimes we simply need to push on that door of opportunity a little bit.
We need to talk to people. Jesus sat down with the woman at the well, asked her for a drink of water, began to converse with her, and transitioned into a spiritual conversation.
People rarely will come knocking on your door to ask what they must do to be saved. Generally there will be other kinds of opportunities, but you need to have your spiritual antenna up, so to speak, and seize the moment when it comes.
The armor of God is not only for holding ground; it is also for gaining ground. We gain ground when our shoes are on and we walk through the doors of opportunity God opens for us.
Copyright © 2008 by Harvest Ministries. All rights reserved. Scripture quotations are taken from the Holy Bible, New Living Translation, copyright © 1996. Used by permission of Tyndale House Publishers, Inc., Wheaton, Illinois 60189. All rights reserved.
For more relevant and biblical teaching from Pastor Greg Laurie, go to www.harvest.org.
SPECIAL OFFER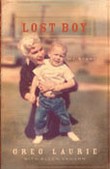 Lost Boy
The Bible says, "If any man be in Christ, he is an altogether different kind of person. Old things have passed away. Everything becomes fresh and new." That is the truth I want you and everyone who reads this book to come away with. And it is a message not just of hope, but also of Christ's redemptive power.
-Greg Laurie
You can have your own copy of the book Lost Boy in appreciation for your gift sent to Harvest Ministries this month.