Thursday, November 12, 2009
Genuine Salvation
"Enter by the narrow gate; for wide is the gate and broad is the way that leads to destruction, and there are many who go in by it. Because narrow is the gate and difficult is the way which leads to life, and there are few who find it."
—Matthew 7:13-14
Many people today have essentially believed a watered-down gospel that deletes the message of repentance. They believe in an all-caring, nonjudgmental God who requires no repentance or a change in their lifestyle. They will say things like, "I believe in Jesus Christ, but my God is not judgmental. My God would never send a person to hell. But I am a Christian."
Yet they cannot have it both ways. They can't make it up as they go.
There are many people, even in the church, who hold to a watered-down belief. This diluted gospel may be the most dangerous plague the church is facing today, because it gives a sense of false assurance to the person who believes it.
The Bible speaks of false prophets who give false assurance. In Jeremiah 6:14, God says, "They have also healed the hurt of My people slightly, saying, 'Peace, peace!' when there is no peace."
It would be like going to the doctor when you are having a heart attack, and having the doctor tell you, "Oh, you are fine. You are being so dramatic! You will be OK."
There are ministers today who say, "God loves you and everything is fine. You can do whatever you want and live however you want to live. Let's just love one another and have a great time."
But that is a false gospel. Yes, God loves us. Yes, God receives any person who comes to Him. But He asks us to repent. He asks us to turn from our sins. If we are not willing to do so, then we are not experiencing biblical faith. And thus, we are not going to receive what the Bible describes as genuine salvation.
Copyright © 2009 by Harvest Ministries. All rights reserved.
Scripture quotations are taken from the Holy Bible, New King James Version, copyright © 1982 by Thomas Nelson, Inc. Bible text from the New King James Version is not to be reproduced in copies or otherwise by any means except as permitted in writing by Thomas Nelson, Inc., Attn: Bible Rights and Permissions, P.O. Box 141000, Nashville, TN 37214-1000.
For more relevant and biblical teaching from Pastor Greg Laurie, go to www.harvest.org
and
to listen to Greg Laurie's daily broadcast on OnePlace.com, click here.
SPECIAL OFFER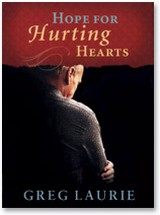 Hope for Hurting Hearts
In times of tragedies and trials, certain things become evident:
This life will have its sorrows
God loves us
Jesus weeps in our times of pain
God can be glorified through human suffering
Hope for Hurting Hearts, Pastor Greg Laurie's new book, examines these truths, revealing God's love and care for us, and shows how we can find hope, even in the midst of the most unbearable pain and sorrow.
You can have your own copy of Hope for Hurting Hearts by Greg Laurie in appreciation for your gift to Harvest Ministries this month.