Friday, November 14, 2008
On the Offensive
We are human, but we don't wage war with human plans and methods. We use God's mighty weapons, not mere worldly weapons, to knock down the Devil's strongholds. 2
2 Corinthians 10:3–4
The sword of the Spirit that Ephesians 6 speaks of is not only for deflecting a blow from the enemy; it is also for inflicting one. This is something the devil doesn't want you to know.
He doesn't want you to start attacking, because if you are always defending, then he is in the superior position. But if you are attacking, then you are in the superior position.
So we are not just using the sword of the Spirit to defend ourselves against the enemy's temptations and condemnations, but we are also using it to attack.
In Acts 8, we find this modeled for us in the life of Philip, who went to share the gospel with a man who had come from Ethiopia and was searching for God. Philip had been sharing the gospel in Samaria, and people were coming to faith.
But then God said to him, "Go south." And Philip, like a good soldier prepared for battle, went. He pulled out the sword of the Spirit, the Word of God.
Philip preached Jesus to this man, because he knew God's Word and was able to use it when the right time came.
Make no mistake about it: there is authority and power in the Word of God. My words will fall to the ground, but God's Word sticks. God's Word breaks through.
We could spend all day trying to defend and explain the Bible, but I have a better idea: use the sword of the Spirit. That is what Philip did, and that is what we need to do as well.
Copyright © 2008 by Harvest Ministries. All rights reserved. Scripture quotations are taken from the Holy Bible, New Living Translation, copyright © 1996. Used by permission of Tyndale House Publishers, Inc., Wheaton, Illinois 60189. All rights reserved.
For more relevant and biblical teaching from Pastor Greg Laurie, go to www.harvest.org.
SPECIAL OFFER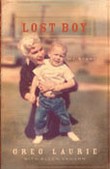 Lost Boy
The Bible says, "If any man be in Christ, he is an altogether different kind of person. Old things have passed away. Everything becomes fresh and new." That is the truth I want you and everyone who reads this book to come away with. And it is a message not just of hope, but also of Christ's redemptive power.
-Greg Laurie
You can have your own copy of the book Lost Boy in appreciation for your gift sent to Harvest Ministries this month.