Thursday, November 18, 2010
Restoration Is the Goal
Brethren, if a man is overtaken in any trespass, you who are spiritual restore such a one in a spirit of gentleness, considering yourself lest you also be tempted.—Galatians 6:1
Our desire should always be to restore, not condemn a person who is in sin. Galatians 6:1 says it perfectly: "Brethren, if a man is overtaken in any trespass, you who are spiritual restore such a one in a spirit of gentleness, considering yourself lest you also be tempted."
The phrase, "overtaken in any trespass," implies it was not premeditated. This is not a picture of someone who went out intentionally to commit a sin. It is speaking of someone who went out and stumbled. They slipped. They fell. It wasn't intentional. They do have a responsibility, however. They did get trapped in the sin. We should take no delight in this, but should want to help and restore them.
First we need to help them come to their senses, because we can't restore someone who doesn't want restoration. We have to first help them see they have a sin, and then we want to help them set it straight. In fact, the word used for "restore" carries the meaning of setting a broken bone or putting a dislocated limb back in place. We do that very gently, lest we do more harm.
Ephesians 4:14-15 tells us, "We should no longer be children, tossed to and fro and carried about with every wind of doctrine, by the trickery of men, in the cunning craftiness of deceitful plotting, but, speaking the truth in love, may grow up in all things into Him who is the head—Christ. . . ." Sometimes we speak the truth, but not in love. Our information is right, but we do it in a heavy-handed, mean way. Then sometimes we will love, but we don't speak the truth.
Speak the truth in love. Restore a person in gentleness. Our objective is to restore, not to condemn.
Copyright © 2010 by Harvest Ministries. All rights reserved.
Scripture taken from the New King James Version. Copyright © 1982 by Thomas Nelson, Inc. Used by permission. All rights reserved.
For more relevant and biblical teaching from Pastor Greg Laurie, go to www.harvest.org
and
Listen to Greg Laurie's daily broadcast on OnePlace.com.
Watch Greg Laurie's weekly television broadcast on LightSource.com.
SPECIAL OFFER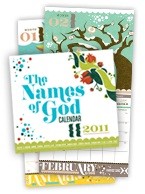 Use this gift to keep teaching and proclaiming the gospel.
Presented with fresh and encouraging illustrations each month, our hope is that you will not only learn the names of God contained in the Bible… but that each name's meaning would give you the comfort, the security, and the peace to know that God is with us and is involved in our world.
You can have your own copy of The Names of God 2011 Calendar in appreciation for your gift to Harvest Ministries this month.