Monday, November 3, 2008
Enemy Tactics
I do so with Christ's authority for your benefit, so that Satan will not outsmart us. For we are very familiar with his evil schemes. (2 Corinthians 2:10–11)
The devil tends to use the same tactics over and over again. I suppose he operates by the old adage, "If it ain't broke, don't fix it."
He has used these techniques, plans, and strategies since the Garden of Eden, and they have worked with great effect to bring down countless people. Therefore, he just keeps bringing them back, generation after generation.
That is the bad news. The good news is that we know what they are, because they are clearly identified in the Bible.
The devil is a dangerous wolf that sometimes disguises himself as a sheep. Sometimes he roars like a lion. But more often he comes like a snake. Sometimes he comes to us in all of his depravity and horror. Other times he comes to us as an angel of light. This is why we always need to be on guard.
He will tempt you and whisper, "Trust me on this. Go ahead and sin. You will get away with it. No one will ever know." So you take the bait and fall into sin.
Then the devil shouts, "What a hypocrite! Do you think God would ever hear your prayers? And don't even bother going to church!" Sadly, some people will listen to this, believe it, and be driven away.
Just remember, no matter what you have done, no matter what sin you have committed, God will always be ready to forgive you if you will turn from that sin and return to Him. Don't let the devil isolate you from God's Word and God's people, because that is exactly what he is trying to do.
Copyright © 2008 by Harvest Ministries. All rights reserved. Scripture quotations are taken from the Holy Bible, New Living Translation, copyright © 1996. Used by permission of Tyndale House Publishers, Inc., Wheaton, Illinois 60189. All rights reserved.
For more relevant and biblical teaching from Pastor Greg Laurie, go to www.harvest.org.
SPECIAL OFFER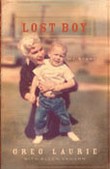 Lost Boy
The Bible says, "If any man be in Christ, he is an altogether different kind of person. Old things have passed away. Everything becomes fresh and new." That is the truth I want you and everyone who reads this book to come away with. And it is a message not just of hope, but also of Christ's redemptive power.
-Greg Laurie
You can have your own copy of the book Lost Boy in appreciation for your gift sent to Harvest Ministries this month.