Monday, November 9, 2009
God's Road Crew
While Annas and Caiaphas were high priests, the word of God came to John the son of Zacharias in the wilderness. And he went into all the region around the Jordan, preaching a baptism of repentance for the remission of sins.
—Luke 3:2-3
Sometimes people on road crews are not very popular. I appreciate the work these crews do, but it seems they always do it at the worst time, like during rush hour. What I have never understood is why they have to close lanes miles before the work site. They block off the entire freeway, while, they are way over on the other side doing their work. Some people get rather angry with them.
John the Baptist was on God's road crew. The Bible describes him as "The voice of one crying in the wilderness: 'Prepare the way of the Lord; make His paths straight. Every valley shall be filled and every mountain and hill brought low; the crooked places shall be made straight and the rough ways smooth" (Luke 3:4-5). The word for "crying" could be translated "howling." John was not known for subtlety. He had a job to do, and he realized that he had a relatively short period of time to do it. His job was much like that of a herald who went ahead of a royal procession.
John was there to prepare the way for the Lord. He was on God's road crew, leveling the mountains, bringing up the low places. It was his task to prepare the nation for the Messiah and then to present the Messiah to them—and he wasn't very popular for it.
In a sense, that is our job as Christians as well. We need to realize that like John, our time is limited. We have to make every moment count. We don't want to waste time. And like John, we should be doing what we have been called to do.
Copyright © 20097 by Harvest Ministries. All rights reserved.
Scripture quotations are taken from the Holy Bible, New King James Version, copyright © 1982 by Thomas Nelson, Inc. Bible text from the New King James Version is not to be reproduced in copies or otherwise by any means except as permitted in writing by Thomas Nelson, Inc., Attn: Bible Rights and Permissions, P.O. Box 141000, Nashville, TN 37214-1000.
For more relevant and biblical teaching from Pastor Greg Laurie, go to www.harvest.org
and
to listen to Greg Laurie's daily broadcast on OnePlace.com, click here.
SPECIAL OFFER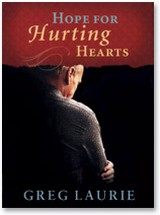 Hope for Hurting Hearts
In times of tragedies and trials, certain things become evident:
This life will have its sorrows
God loves us
Jesus weeps in our times of pain
God can be glorified through human suffering
Hope for Hurting Hearts, Pastor Greg Laurie's new book, examines these truths, revealing God's love and care for us, and shows how we can find hope, even in the midst of the most unbearable pain and sorrow.
You can have your own copy of Hope for Hurting Hearts by Greg Laurie in appreciation for your gift to Harvest Ministries this month.