Tuesday, October 13, 2009
Causing a Disturbance
The church then had peace throughout Judea, Galilee, and Samaria, and it became stronger as the believers lived in the fear of the Lord. And with the encouragement of the Holy Spirit, it also grew in numbers.
—Acts 9:31
Acts 9 tells us that after Saul's conversion, the church had peace. Why could they heave a sigh of relief? Because Saul had stopped hunting them down, arresting them, and throwing them into prison. But for as long as he lived, the world never had peace again, because he took the same zeal that had driven him to hunt down Christians and applied it to preaching the gospel.
I wish that Christians would serve God with as much zeal as they once served the devil. Many of us did whatever the devil wanted us to do. He would tell us to jump, and we would ask how high. But once we became Christians, we suddenly became timid. Instead of being bold men and women of God who are making a difference, we think, Well, I don't want to offend anyone. . . . Well, I don't want to say that. . . . Well, I am not sure if people would like that.
The world didn't have rest, because Saul was the kind of guy who got things done. And when he was filled with the Holy Spirit and led by God, he was out preaching the gospel and causing what could be described as a holy disturbance.
Are you causing a disturbance in a good way? Or are you just fitting in—blending in with the woodwork? Instead, may God help you to be the man or woman He has called you to be.
I thank God for heroes like Paul. But I thank God for unsung heroes too. So whether you're a hero or an unsung hero, make your life count. Because you don't decide when your life starts, and you don't decide when it ends. But you can decide what you will do with the days in between.
Copyright © 2009 by Harvest Ministries. All rights reserved.
Scripture quotations are taken from the Holy Bible, New Living Translation, copyright 1996, 2004. Used by permission of Tyndale House Publishers, Inc., Wheaton, Illinois 60189. All rights reserved.
For more relevant and biblical teaching from Pastor Greg Laurie, go to www.harvest.org
and
to listen to Greg Laurie's daily broadcast on OnePlace.com, click here.
SPECIAL OFFER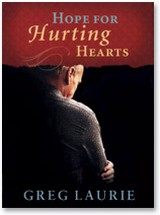 Hope for Hurting Hearts
In times of tragedies and trials, certain things become evident:
This life will have its sorrows
God loves us
Jesus weeps in our times of pain
God can be glorified through human suffering
Hope for Hurting Hearts, Pastor Greg Laurie's new book, examines these truths, revealing God's love and care for us, and shows how we can find hope, even in the midst of the most unbearable pain and sorrow.
You can have your own copy of Hope for Hurting Hearts by Greg Laurie in appreciation for your gift to Harvest Ministries this month.