Wednesday, October 14, 2009
True Tolerance
Nor is there salvation in any other, for there is no other name under heaven given among men by which we must be saved."
—Acts 4:12
I find it ironic that those who tell us we need to be tolerant are very intolerant of the gospel. In fact, the most intolerant people seem to be those who are always telling you to be tolerant. I have heard the complaint that Christians are so intolerant, yet I don't think that is true at all.
I think Christians are the most tolerant people of all, because we want to reason with those who have a different belief system than ours or live a different lifestyle than we live. Yes, we believe in absolute truth and believe in it unapologetically. But I have found that people who are the most intolerant are the ones who say, "I don't like the fact that you believe in absolute truth, and I am tolerant of everyone except you. I want you to shut up. I don't want you to state your views." What happened to all their tolerance? Where is the so-called love?
To proclaim that Jesus Christ is the only way to God will offend some people. But we proclaim it because the Bible clearly teaches it. This is what we call an essential, a nonnegotiable. Jesus stated it as succinctly as it could be stated when He said, "I am the way, the truth, and the life. No one comes to the Father except through Me" (John 14:6). When we state that as fact, it will offend certain people.
When a physician discovers a problem with a patient's health, he or she must tell the truth, even if it could upset the patient. As Christians, we must tell the truth about a person's condition, which, according to the Bible, is sinful. We must explain the problem and then offer the solution through Jesus Christ. And this will offend some people.
Copyright © 2009 by Harvest Ministries. All rights reserved.
Scripture taken from the New King James Version. Copyright © 1982 by Thomas Nelson, Inc. Used by permission. All rights reserved.
For more relevant and biblical teaching from Pastor Greg Laurie, go to www.harvest.org
and
to listen to Greg Laurie's daily broadcast on OnePlace.com, click here.
SPECIAL OFFER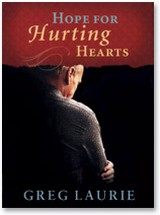 Hope for Hurting Hearts
In times of tragedies and trials, certain things become evident:
This life will have its sorrows
God loves us
Jesus weeps in our times of pain
God can be glorified through human suffering
Hope for Hurting Hearts, Pastor Greg Laurie's new book, examines these truths, revealing God's love and care for us, and shows how we can find hope, even in the midst of the most unbearable pain and sorrow.
You can have your own copy of Hope for Hurting Hearts by Greg Laurie in appreciation for your gift to Harvest Ministries this month.