Frangelism - Greg Laurie Devotion - January 14, 2022

Friday, January 14, 2022
Frangelism
"Since God in his wisdom saw to it that the world would never know him through human wisdom, he has used our foolish preaching to save those who believe" (1 Corinthians 1:21 NLT).
We tend to think of preaching in a negative way, as something that is bad. For example, if someone says something that we don't like, we might say, "Hey, don't preach at me."
Actually, the Bible says that preaching is a good thing, but we don't necessarily have to do it loudly. The word preach doesn't mean that we have to project. We can preach quietly. We can whisper the gospel, share it conversationally, or even tweet it.
There are so many ways we can share our faith. The point is to just communicate it.
Romans 10:14 asks, "How can they call on him to save them unless they believe in him? And how can they believe in him if they have never heard about him? And how can they hear about him unless someone tells them?" (NLT).
The primary way people come to Jesus is through hearing the gospel. The Bible tells us, "For since, in the wisdom of God, the world through wisdom did not know God, it pleased God through the foolishness of the message preached to save those who believe" (1 Corinthians 1:21 NKJV).
God called Jonah to take the gospel to the city of Nineveh, which was filled with Israel's enemies. Jonah was reluctant and didn't go at first. But when he did go and preach the message that God gave him, a great spiritual awakening broke out.
President Abraham Lincoln said, "The best way to destroy an enemy is to make him a friend." So share the gospel with your enemies and frenemies as well as your friends, your neighbors, and your family. Go to everyone you can and share the gospel.
Another term I like to use for evangelism is "frangelism." F is for friends. R is for relatives. A is for associates. And N is for neighbors. Go into all of your world and preach the gospel.
Copyright © 2022 by Harvest Ministries. All rights reserved.
For more relevant and biblical teaching from Pastor Greg Laurie, go to www.harvest.org
and
Listen to Greg Laurie's daily broadcast on OnePlace.com.
Watch Greg Laurie's weekly television broadcast on LightSource.com.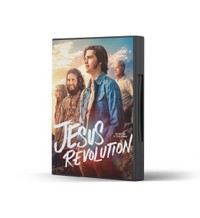 In thanks for your gift, you can receive the Jesus Revolution DVD.
Jesus Revolution has sparked personal revival in the hearts of thousands through its remarkable box office release. It's time to spread the flame of revival even further! Get Jesus Revolution on DVD today!
Receive a copy of the Jesus Revolution DVD when you partner with Harvest this month.