Monday, June 24, 2019
"I Have Some Good News and Some Bad News . . ."
I am shocked that you are turning away so soon from God, who called you to himself through the loving mercy of Christ. You are following a different way that pretends to be the Good News but is not the Good News at all. You are being fooled by those who deliberately twist the truth concerning Christ. (Galatians 1:6-7)
We have all heard good news/bad news jokes. Before we can fully appreciate the good news, we have to know the bad news.
The literal definition of gospel is good news. And before we can fully appreciate the good news of the gospel, we have to know the bad news. That means telling people they are sinners. Of course, people don't like to hear that. I'm a what? I'm not a sinner! I'm a good person!
We have to define what it means to be a sinner, because the Bible says, "For all have sinned and fall short of the glory of God" (Romans 3:23 NIV). Yet there are preachers today who don't want to tell people they're sinners. They claim that most people know they're doing wrong. But do they? I think a lot of people believe everything is fine as long as they try to live a good life.
We have to break the bad news: "I'm sorry to tell you this, friend, but you're a sinner. You've broken God's commands. You've fallen short of His standards, and there is nothing you can do to make this right. But God loved you so much that He sent Jesus to die on the cross for you, and if you will turn from that sin and put your faith in Christ, you can be forgiven."
The bad news helps us fully appreciate the good news. Anything less than this is a false gospel that will give false assurance. That is why Paul wrote, "I am shocked that you are turning away so soon from God. . . . You are following a different way that pretends to be the Good News but is not the Good News at all" (Galatians 1:6-7).
We must be careful to preach the real gospel.
Copyright © 2017 by Harvest Ministries. All rights reserved.
Scripture quotations are taken from the Holy Bible, New Living Translation.
For more relevant and biblical teaching from Pastor Greg Laurie, go to www.harvest.org
and
Listen to Greg Laurie's daily broadcast on OnePlace.com.
Watch Greg Laurie's weekly television broadcast on LightSource.com.
SPECIAL OFFER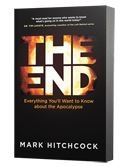 In thanks for your gift, you can receive The End: Everything You'll Want to Know About the Coming Apocalypse, BOOK.
Authored by end-times expert Mark Hitchcock, The End is a comprehensive overview of the last days which brings insight and clarity to the pages of Scripture. The End will be sent to you as a gift of appreciation when you donate to Harvest Ministries today.
This book is our thank-you gift to you when you donate to Harvest Ministries this month.