Friday, June 14, 2019
The Authority of the Scriptures
"So shall My word be that goes forth from My mouth; it shall not return to Me void, but it shall accomplish what I please, and it shall prosper in the thing for which I sent it." (Isaiah 55:11)
When I think of Billy Graham's preaching over the years, one thing comes to mind: he always quoted the Bible. How many times have we heard Billy Graham say, "And the Bible says . . ."? I've always loved that about him. He knows the authority of the Scriptures.
In the same way, Peter's message on the Day of Pentecost was great because it was scriptural. He quoted Joel 2:28–32 from memory, and he also quoted Psalm 16 and Psalm 110. Obviously Peter had committed great portions of Scripture to memory. Any Christian worth his or her salt should be able to stand up at a moment's notice and clearly articulate the gospel message without notes.
Why? Because someday you may find yourself in a situation where you'll need to break it down fast, where you'll be able to say, "Here's how you can get right with God and put your faith in Jesus Christ."
We need to know the Scriptures. I can't emphasize enough how important the Bible is when you are sharing your faith. As Isaiah 55 tells us, "For as the rain comes down, and the snow from heaven, and do not return there, but water the earth, . . . so shall My word be that goes forth from My mouth; it shall not return to Me void, but it shall accomplish what I please, and it shall prosper in the thing for which I sent it" (verses 10–11).
We need to use the Scriptures as we share the gospel. As artists know how to use their pens and brushes (and nowadays, their computer programs), as cooks know how to use their knives and utensils, as soldiers know how to use their weapons, we need to know how to use the Word of God.
Copyright © 2017 by Harvest Ministries. All rights reserved.
For more relevant and biblical teaching from Pastor Greg Laurie, go to www.harvest.org
and
Listen to Greg Laurie's daily broadcast on OnePlace.com.
Watch Greg Laurie's weekly television broadcast on LightSource.com.
SPECIAL OFFER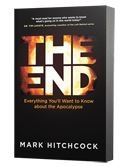 In thanks for your gift, you can receive The End: Everything You'll Want to Know About the Coming Apocalypse, BOOK.
Authored by end-times expert Mark Hitchcock, The End is a comprehensive overview of the last days which brings insight and clarity to the pages of Scripture. The End will be sent to you as a gift of appreciation when you donate to Harvest Ministries today.
This book is our thank-you gift to you when you donate to Harvest Ministries this month.