Tuesday, October 20, 2009
Words That Don't Go Together
"No, Lord," Peter declared. "I have never eaten anything that our Jewish laws have declared impure and unclean." But the voice spoke again: "Do not call something unclean if God has made it clean."
—Acts 10:14-15
There are certain words that don't go together and certain words that do. "Yes, Lord"—that works nicely. "How, Lord?"—that is fine. "When, Lord?" or even "Why, Lord?" work too. But if you are a Christian, you should never say, "No, Lord" or "Never, Lord."
It was time for the apostle Peter to leave his comfort zone and go to certain people who needed to hear the gospel. So one day as Peter was praying at about noon, he saw the sky open and a sheet being lowered down with all kinds of animals on it—basically, all the animals that were unclean according to Jewish law. God told him, "Get up, Peter; kill and eat them."
But Peter responded, "No, Lord." Now Peter was in Joppa, the same place where Jonah caught a ship going in the opposite direction of where God told him to go. Jonah didn't want to preach in Ninevah, which was the enemy of Israel, so he tried to get as far away from God as he could. But the Lord has a way of getting things the way He wants them, and Jonah eventually said, "Yes, Lord."
Sometimes we don't want to reach out to the enemy with the gospel because, if we were really honest, we are kind of glad they eventually will get theirs. But we need to share the Good News with everyone, even our enemies.
Peter had a choice. Either he could run from God or he could obey God. And he did the latter. When the Lord said go, he went. Peter shared the gospel with Cornelius, who came to faith in Christ. The Holy Spirit was poured out on Cornelius' home, and the gospel was brought to the Gentile world. And the rest, as they say, is history.
Copyright © 2009 by Harvest Ministries. All rights reserved. 
Scripture quotations are taken from the Holy Bible, New Living Translation, copyright 1996, 2004. Used by permission of Tyndale House Publishers, Inc., Wheaton, Illinois 60189. All rights reserved. 
For more relevant and biblical teaching from Pastor Greg Laurie, go to www.harvest.org
and
to listen to Greg Laurie's daily broadcast on OnePlace.com, click here.
SPECIAL OFFER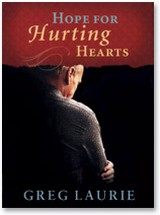 Hope for Hurting Hearts
In times of tragedies and trials, certain things become evident:
This life will have its sorrows
God loves us
Jesus weeps in our times of pain
God can be glorified through human suffering
Hope for Hurting Hearts, Pastor Greg Laurie's new book, examines these truths, revealing God's love and care for us, and shows how we can find hope, even in the midst of the most unbearable pain and sorrow.
You can have your own copy of Hope for Hurting Hearts by Greg Laurie in appreciation for your gift to Harvest Ministries this month.