What it Means for God to Create a New Heart in Us - iBelieve Truth: A Devotional for Women - December 9
What it Means for God to Create a New Heart in Us
By Victoria Riollano
Create in me a clean heart, O God; and renew a right spirit within me. - Psalm 51:10
I must admit, one of my favorite holiday movies is The Grinch. While everyone else snuggles up to Hallmark movies, I can watch The Grinch over and over, without pause. There's something special about watching a character transition from being hard-hearted to one who can love others well. Truthfully, the character in the movie had every reason to hold so much animosity. Years of rejection, being misunderstood, and not quite "fitting the mold" caused him deep pain. I am convinced many of us may relate to this feeling.
For years, I found myself relating to this character. Often too bubbly for some and too "weird" for others, I spent years trying to figure out how I could simply be a part of the crowd. Over time, my desire to fit in led to a host of poor choices and toxic relationships. Even more so, my heart would become hard toward making friendships. At times, this frustration would spill over into my relationship with God. Often times, I would question why God would allow me to keep being rejected? Why would God want to me love those who treat me poorly? How could He ever fix a heart that was so damaged? Eventually, it would become easiest to wallow in isolation and shun the idea of having deep friendships.
Yet, year after year, this time of recluse gave me time to develop my relationship with God and seek answers to what had been plaguing me. He started to reveal the truth of my newfound-grinchy nature. I needed a complete heart transfusion.
I will give you a new heart and put a new spirit in you; I will remove from you your heart of stone and give you a heart of flesh. - Ezekiel 36:26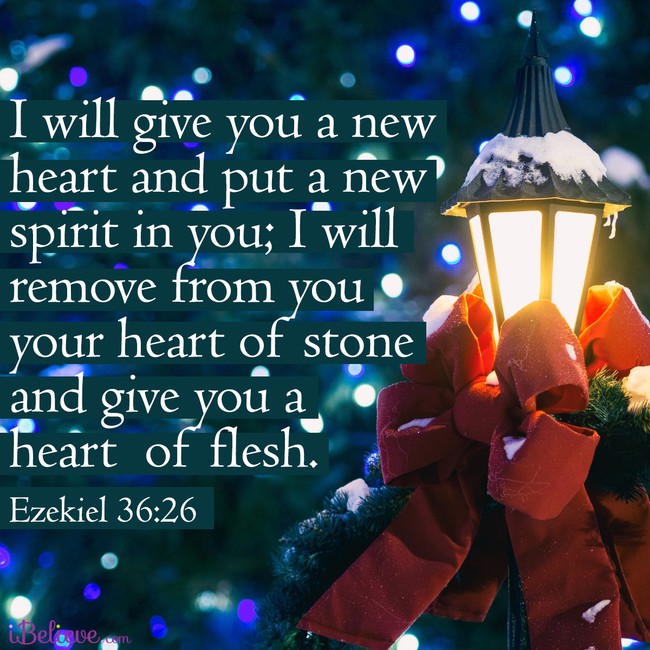 In this passage, the Lord speaks through the prophet Ezekiel to the children of Israel. He tells them He wants to cleanse them and replace their heart. Though this was not a literal heart transfusion it had major spiritual implications. A heart that was once sinful and deceitful can now be focused on God and His promises. A heart that once primarily focused on the negative could not seek God wholeheartedly. This "new heart" would be driven by God's spirit. The God-given heart can be molded and is fully alive. The heart of stone is one that is unable to be molded, lifeless, and cold.
When I look around my life, I wonder who else needs this Holy Spirit heart transfusion. Who else needs their heart that's become hard from life's woes to become full of life again? Who else has allowed sin and deceit to give them a heart that is almost impossible to mold? Who else can no longer see the good in others as they are too tormented by their own rotten heart?
Today, I believe we should all pause and pray, "God create in me a clean heart" (Psalm 51:10). Lord help me to forgive. Mold my heart to reflect yours. Show me the error of my own ways and even the ways I've aided in my own pain.
In my own life, like the Grinch, God showed me that my elevation of the opinions of others would be what led my heart to become so rigid. Yet, when we encounter love and ask God for opportunities to see past our own slanted perspective, we can come to love again. We can come to trust again. We can come to live a life that is rewarding again. This new heart and view on life has nothing to do with anyone else. It relies solely on our recognition that God is good, and He has great plans for our lives. When we embrace this wholeheartedly, we are not destroyed by circumstances. Instead of retreating completely, we run towards God.
When God restores our hearts, we will never be the same and everyone will be able to see it!
---
Victoria Riollano is an author, blogger, and speaker at Victory Speaks. As a mother of six, military spouse, Psychology professor and pastor's wife, Victoria has learned the art of balancing family and accomplishing God's ultimate purpose for her life. Recently, Victoria released her book, The Victory Walk: A 21 Day Devotional on Living A Victorious Life. Additionally, Victoria has recently begun her journey as the podcast host of Victory Talk with Victoria. Her ultimate desire is to empower women to live a life of victory, hope, and love. She believes that with Christ we can live a life that is ALWAYS winning. You can learn more about her ministry at www.victoryspeaks.org.
For More Great Resources for Women, Visit iBelieve's Faith Channel.
Join licensed therapist Carley Marcouillier on Therapy + Theology each week as she tackles a common question related to therapy, mental health, and faith.

Listen to an episode right now by clicking the play button below!