May 11, 2009
Investing in Eternity
1 Thessalonians 1:6-8
With all the turmoil on Wall Street in recent months, this seems like the right time to discuss long-term investments. But I'm not referring to stocks and bonds; Christians are to invest in the lives of others. All the material riches of this world will pass away; only believing souls will survive into eternity. So we must devote ourselves to helping as many as possible reach heaven.
God offers salvation to the entire world. However, there are people in every country who have not heard that Jesus loves them and died for their sins (John 3:16). The word "unchurched" often evokes images of bushmen or people living under repressive regimes. But the reality is that your next-door neighbor may not know the gospel.
The church has found numerous ways to spread the good news. In Touch, for example, reaches around the world through print, radio, television, and the Internet. But person-to-person evangelism remains a most effective way of telling people about Jesus, as unbelievers can get their questions answered and concerns addressed. Those who trust in Christ can then be discipled, which is vital to spiritual growth. It's not enough just to give money so missionaries can do this work in distant countries. Nearby "fields" are also ready to harvest, but the workers are few (Matt. 9:37).
When it comes to reaching the lost, all believers are personally responsible. Jesus said, "As the Father has sent Me, I also send you" (John 20:21). You cannot get involved in a wiser or more everlasting venture than pouring your spiritual wealth into another person's mind and heart. Investing in souls is the only "sure thing."
For more biblical teaching and resources from Dr. Charles Stanley, please visit www.intouch.org
and
click here to listen to Dr. Stanley at OnePlace.com.
FEATURED RESOURCE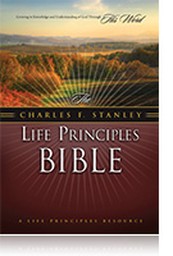 The NASB Life Principles Bible
You can now read the Scriptures in Dr. Stanley's favorite teaching translation -- the New American Standard -- while learning the 30 Life Principles that have guided him for more than 50 years. The new NASB Life Principles Bible will enhance your personal study time through explanation of key passages, plus helpful resources like "Answers to Life's Questions," concordance, maps, and much more. Available in leather and hardcover. 

Used with permission from In Touch Ministries, Inc. © 2009 All Rights Reserved.