Finishing Well
During the 1968 Olympic Games in Mexico, the Tanzania marathon representative, John Akwhari, fell and suffered serious leg injuries after running only 30 kilometers.
The race officials urged him to quit, but he refused. More than an hour after the winner of the race had finished, Akwhari, in tremendous pain, collapsed on the finish line.
Later when he was asked why he didn't quit, he said, "My country did not send me to start the race. They sent me to finish it."
Hebrews 12:1 teaches, "Let us throw off everything that hinders and the sin that so easily entangles. And let us run with perseverance the race marked out for us."
In the workplace, there are very hard days, but God desires us to finish well as Akwhari did.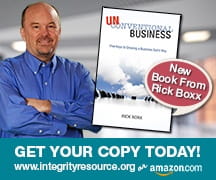 Learn more about Rick Boxx and Integrity Resource Center