A Higher Commitment
By: Rick Boxx
December 19, 2012
At Integrity Resource Center we designed a path to help others apply God's principles to their work. We begin by introducing them to the concepts. Then, we help them learn, commit, model and teach others the principles.
I dream of seeing over 1 million leaders commit to God's principles by signing our FIRE Covenant. One of the thousands who have made that commitment is Cynthia from West Virginia.
Referencing Psalm 121 she wrote, "As God is my father in heaven, I will strive to keep my covenant with him in all aspects of my life. And though I may stumble and fall, grow weak and falter, I will look to the hills from which cometh my help.
If God's calling you to a higher level of commitment sign our FIRE Covenant!
Help us reach our goal of over 1 million committed leaders modeling God's principles by joining our monthly support team.
Joel Manby's Love Works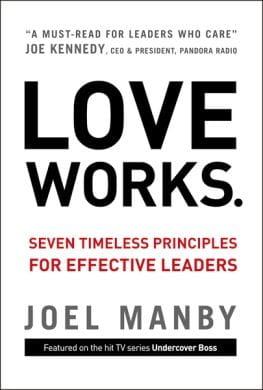 Manby challenges leaders to allow integrity and faith to guide leadership decisions, outlining seven time-proven principles that break down the natural walls within corporate cultures, and cultivating an atmosphere that builds long-term success. Purchase here.
"How well are you modeling Faith, Integrity, Relationships, and Excellence in your work? Find out by taking Integrity Resource Center's free FIRE Assessment!"
Contact Rick Boxx at www.integritymoments.org, and to learn more about Integrity Resource Center go to integrityresource.org.