December 22
But He Made Himself of No Reputation
"But made Himself of no reputation, and took upon Him the form of a servant, and was made in the likeness of men." Philippians 2:7
Jesus came in a manger for you and for me. He willingly left the glories and riches of heaven to be born in a stable.
Jesus became poor, so that we might become rich.
He lived a life of such abject poverty that when He had to pay taxes, He had to look for a coin in a fish's mouth.
When He sent out His disciples, He told them to take nothing, but a staff and the power of the Holy Spirit (Mark 6:7-9).
He was put to death like a common criminal so that we could wear a royal robe!
Child of God, you are rich! I am rich! Praise God!
Read Philippians 2:6-11 with your family or friends today as a Christmas devotional. Spend time praising God for His Son, Jesus.
Philippians 2:6-11 – Who, being in the form of God, thought it not robbery to be equal with God: But made Himself of no reputation, and took upon Him the form of a servant, and was made in the likeness of men: And being found in fashion as a man, He humbled Himself, and became obedient unto death, even the death of the cross. Wherefore God also hath highly exalted him, and given him a name which is above every name: That at the name of Jesus every knee should bow, of things in heaven, and things in earth, and things under the earth; And that every tongue should confess that Jesus Christ is Lord, to the glory of God the Father.
---
FEATURED RESOURCE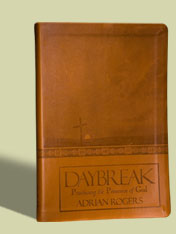 Daybreak: Practicing the Presence of God
This devotional journal with daily applications was designed several years ago by Adrian Rogers. This leather-bound keepsake will be a treasured addition to start your day out right!
Each day you will begin with a nugget from one of his messages, a reading from God's Word, and a place to write your "Spiritual concerns and prayer requests." Order your copy today.
For more Adrian Rogers' resources you may visit the Love Worth Finding bookstore at www.lwf.org.