January 10
Learning Difficult Lessons Through Suffering
"For our God is a consuming fire." Hebrews 12:29
Someone has said, "If you are looking for a leader to follow, find someone with a limp." The wounded in life are those who have learned difficult lessons through suffering.
Do not resist the Shepherd's rod of correction. Is the wounding painful? Indeed. Does it seem that you will not be able to bear it? Most certainly. Then, why would He subject you to such pain? Because you have a Father who loves you so much that He is willing to hurt you in order to heal you.
What you need to focus on is not your pain, but your Savior. God didn't save you to take you to heaven. That's a fringe benefit. God saved you to make you holy – as He is holy.
Read Hebrews 12:1-13. What application can you make from this passage for your life today?
---
FEATURED RESOURCE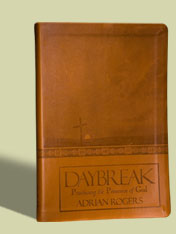 Daybreak: Practicing the Presence of God
This devotional journal with daily applications was designed several years ago by Adrian Rogers. This leather-bound keepsake will be a treasured addition to start your day out right!
Each day you will begin with a nugget from one of his messages, a reading from God's Word, and a place to write your "Spiritual concerns and prayer requests." Order your copy today.
For more Adrian Rogers' resources you may visit the Love Worth Finding bookstore at www.lwf.org.