November 13
Cheering Us On To Victory
Hebrews 12:1 – "Wherefore seeing we also are compassed about with so great a cloud of witnesses, let us lay aside every weight, and the sin which doth so easily beset us, and let us run with patience the race that is set before us."
A soft-spoken woman went to a high school football game. She'd been quiet during the entire game until there was a fumble on the field. The substitute quarterback, a little scrawny kid, picked up the ball and started running past the other players toward the goal, and this little lady exploded! She jumped up and said, "Run, baby, run! Run, baby, run!" He was her son.
That's what the saints are saying, as they watch us on the playing field of life. They are cheering us on from the Heavenly grandstand to "run with patience, the race that is set before us."
Do you need a lift today?
Imagine a grandstand the size of heaven cheering you on to victory!
---
FEATURED RESOURCE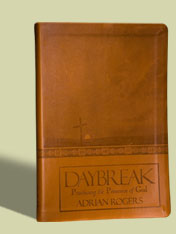 Daybreak: Practicing the Presence of God
This devotional journal with daily applications was designed several years ago by Adrian Rogers. This leather-bound keepsake will be a treasured addition to start your day out right!
Each day you will begin with a nugget from one of his messages, a reading from God's Word, and a place to write your "Spiritual concerns and prayer requests." Order your copy today.
For more Adrian Rogers' resources you may visit the Love Worth Finding bookstore at www.lwf.org.