September 26
More Than We Can Ask or Think
"Now unto Him that is able to do exceeding abundantly above all that we ask or think, according to the power that worketh in us." Ephesians 3:20
To be found in Jesus, Paul says, is worth more than all of his religion, race, and ritual. It is a relationship with the Almighty God. It is Jesus.
Paul says, "I'm tired of trying. I'm going to start trusting."
Basically, Paul lived a life of working his way to heaven before he met the Lord on the road to Damascus (see Acts 9).
Legalism is a terrible thing. It is a harsh task master under which no one can succeed. Liberty, not legalism, is what the Lord Jesus Christ offers – freedom, not bondage; relationship, not religion.
We give up nothing for which Jesus will not abundantly offer more than we could ever hope or dream.
Read Colossians 3:11. What does it mean for Christ to be your "all in all"?
---
FEATURED RESOURCE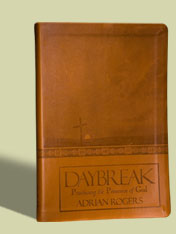 Daybreak: Practicing the Presence of God
This devotional journal with daily applications was designed several years ago by Adrian Rogers. This leather-bound keepsake will be a treasured addition to start your day out right!
Each day you will begin with a nugget from one of his messages, a reading from God's Word, and a place to write your "Spiritual concerns and prayer requests." Order your copy today.
For more Adrian Rogers' resources you may visit the Love Worth Finding bookstore at www.lwf.org.