Love Worth Finding - Sept. 29, 2008
September 29
Fidelity, a Multi-Facetted Trait of Character
"Marriage is honorable in all, and the bed undefiled: but whoremongers and adulterers God will judge." Hebrews 13:4
I'm continually amazed at the apathetic responses to surveys in which people are asked, "Does it make any difference to you whether a candidate is faithful to his wife or not?" Or, "Would you vote for a man that was unfaithful to his wife?" And they respond, "It doesn't matter."
Well friend, it makes a difference to me, and more importantly, it makes a difference to God. When couples break solemn vows – unless they repent with every ounce of their hearts – trust is broken.
Put it down big, plain, and straight: People who treat sex lightly will treat other people lightly.
Are you married? Find some time today to express to your spouse your love and faithful commitment to him or her.
---
FEATURED RESOURCE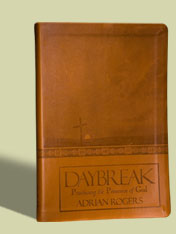 Daybreak: Practicing the Presence of God
This devotional journal with daily applications was designed several years ago by Adrian Rogers. This leather-bound keepsake will be a treasured addition to start your day out right!
Each day you will begin with a nugget from one of his messages, a reading from God's Word, and a place to write your "Spiritual concerns and prayer requests." Order your copy today.
For more Adrian Rogers' resources you may visit the Love Worth Finding bookstore at www.lwf.org.