My Well-Beloved . . . dug [the vineyard] up and cleared out its stones, and planted it with the choicest vine. He built a tower in its midst . . . . (Isaiah 5:1-2)
The Beloved digs about his fertile field to ensure that there are no rocks to interfere with the growth process. This is not just casual work, but expensive, intentional, and deliberate labor. He cultivates the grounds for planting, but He doesn't stop there. He also builds a watchtower in the midst of the field for observation and protection. Similarly, God develops us by yanking out all the stones and weeds—anything that would hinder our growth—from our hearts. Then, He builds His watchtower to watch over us so that no one steals our fruit.
---
Be challenged by Romans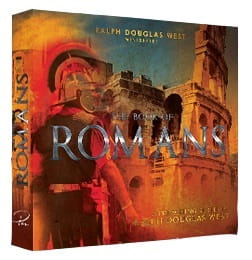 Romans doesn't let us sit still. In Romans, Paul talks about the obligation we are under to spread the truth of the Gospel and to engage with the culture around us. He talks about the journey we must make after we accept the God's gift of salvation. We are called to leave our comfortable and easy corners and spread the message of Christ's sacrifice to everyone around us, because we have been freely justified!