Stand up for Jesus!
August 30, 2010
The natural person does not accept the things of the Spirit of God, for they are folly to him, and he is not able to understand them because they are spiritually discerned.
--1 Corinthians 2:14
What do you think is the most often quoted verse of Scripture in our culture?
You might be tempted to say John 3:16, but I don't think that's the one. I believe the most popular verse is Matthew 7:1, which says, "Judge not, that you be not judged." This verse is frequently quoted by nonbelievers when people like you and I attempt to tell them where they are mistaken about spiritual things.
People say things like, "Who are you to judge me? Didn't Jesus say not to judge?"
You see, as followers of Jesus we face a natural resistance when we present the Gospel's perspective. And in today's devotional verse Paul explains why this happens. He tells us that spiritual things are foreign to the person who doesn't have a relationship with Christ. They lack discernment in this area.
So we shouldn't be surprised or hurt when we are reprimanded by unbelievers when we dare to show them where they are wrong. We still must dare to share the good news of the Gospel!
Don't let a reprimand cause you to lose your courage, rather stand up for Christ.
When you come across cultural, ethical, and moral debates, speak with conviction and with compassion on behalf of Christ and his Word!
DON'T LOSE YOUR COURAGE, RATHER STAND UP FOR CHRIST.
---
For more from PowerPoint Ministries and Dr. Jack Graham, please visit www.jackgraham.org
and
Listen to Dr. Jack Graham's daily broadcast on OnePlace.com.
Watch Jack Graham and Powerpoint Ministries Video Online.
OUR THANKS TO YOU!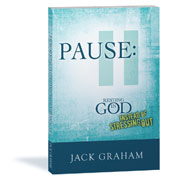 Pause: Resting in God Instead of Stressing Out
Dear Friend,
Do the words rested... peaceful... and refreshed describe you today? Or do the words stressed... rushed... and pressured better describe your way of life?
If you're like most Christians, you'd probably have to admit those last three words more accurately describe your life most of the time!
The good news is that it doesn't have to be this way... even when your life is one big pressure-cooker. And in my new book, Pause: Resting in God Instead of Stressing Out, I'll show you why.
Based on the principles from Paul's letter to the Philippians and Psalm 23, Pause: Resting in God Instead of Stressing Out will help you find true peace and rest in a world that is anything but peaceful and restful. It's the perfect "pause" button you need!
So please request your copy of Pause: Resting in God Instead of Stressing Out when you give online today! --Jack Graham