What to Do When it Seems Darkness Is Winning - Powerpoint - February 24

What to Do When it Seems Darkness Is Winning
February 24
"For behold, the wicked bend the bow;
they have fitted their arrow to the string
to shoot in the dark at the upright in heart;
if the foundations are destroyed,
what can the righteous do?"
Over the past 50 years, many of us have watched our world, our culture, and our country change dramatically. Growing up in the 1950s and growing up today are two extremely different experiences. A radical cultural transformation has taken place politically, morally, and economically. We live in a vastly different world!
One of the major characteristics of this new era is the fact that we are undeniably moving more and more into a post-Christian era. Every institution in our government, and even most in the private sector, has sought to become completely secular, stripping religion out completely.
So as believers, what are we to do in light of this cultural transformation? Well, we can fight against the changes we're seeing, which I believe is absolutely essential for issues like abortion and defending some of our fundamental institutions. But the tide has now turned against us and there's little doubt our nation will become increasingly secular in years to come.
But whatever happens in our culture, the church is the church and must continue to make a declaration of the truth of the Gospel whether people listen or not. We must fight the good fight for the future of our nation and our world. When the darkness seems to be winning, stay true to your calling and remember you serve a God who is in control!
IN THE FACE OF DARKNESS AND SECULARISM, DECLARE THE TRUTH OF CHRIST TO OTHERS AND REMEMBER GOD IS IN CONTROL.
---

For more from PowerPoint Ministries and Dr. Jack Graham, please visit www.jackgraham.org
and
Listen to Dr. Jack Graham's daily broadcast on OnePlace.com.
Watch Jack Graham and Powerpoint Ministries Video Online.

Revitalize your prayer life in 30 days!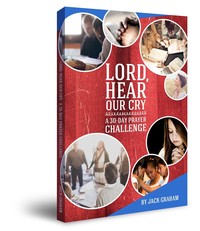 We want to help you Discover how to revitalize your prayer life in 30 days, by sending you Pastor Graham's book, 'Lord, Hear Our Cry.' It's our gift to thank you for your donation to help proclaim the Gospel 'til the whole world hears.
Thank you!
Jack Graham
PowerPoint Ministries