How You Can See the True Beauty of God's Word - Powerpoint - March 1

How You Can See the True Beauty of God's Word
March 1
The grass withers, the flower fades,
but the word of our God will stand forever.
An art expert was making a visit to the Louvre Museum in Paris. As he usually did on his trips to the Louvre, he spent hours staring at his favorite painting, the Mona Lisa. As he pondered her famous smile and what she must've been thinking, a country boy came into the room.
The boy walked up to the famous painting, took a look at it, and said, "Man… that sure doesn't look like much to me. Why all the fuss about this picture?"
The art expert saw a beauty the country boy couldn't see. It wasn't that the Mona Lisa wasn't a magnificent work of art. It was that the country boy had no appreciation for it. The Mona Lisa has already stood the test of time.
Like the Mona Lisa, the Word of God has also stood the test of time. Yes, there are many who give it a cursory glance and say, "I don't see what the big deal is." But for those who've been given eyes to see it's wonderful beauty, it is the very source of life.
Don't let the scoffers shape your opinion of the Scriptures. Instead, praise God that you've been given eyes to see its wondrous beauty and find life in its powerful teachings!
PRAY THAT GOD WOULD GIVE YOU EYES TO SEE THE BEAUTY OF HIS WONDERFUL WORD.
---

For more from PowerPoint Ministries and Dr. Jack Graham, please visit www.jackgraham.org
and
Listen to Dr. Jack Graham's daily broadcast on OnePlace.com.
Watch Jack Graham and Powerpoint Ministries Video Online.

Revitalize your prayer life in 30 days!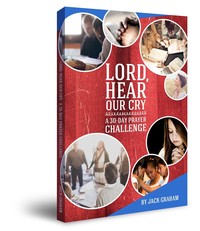 We want to help you Discover how to revitalize your prayer life in 30 days, by sending you Pastor Graham's book, 'Lord, Hear Our Cry.' It's our gift to thank you for your donation to help proclaim the Gospel 'til the whole world hears.
Thank you!
Jack Graham
PowerPoint Ministries