How You Can Live in Freedom from Bitterness - Powerpoint - June 30

How You Can Live in Freedom From Bitterness
June 30
Be angry and do not sin; do not let the sun go down on your anger, and give no opportunity to the devil.
I was out driving several weeks ago on a particularly busy road. It was rush hour and, as you can imagine, tensions on the road were already high. So there I was, minding my own business, when ERRRRRK! Somebody cut me off!
In that moment and in my flesh, there were several things I wanted to do. I wanted to roll down my window and tell that driver exactly what I thought about him. I wanted to be angry because, after all, I had the right to be! That's what I wanted to do.
But God tells us that, even when it comes to those who make us angry, those whom we consider our enemies, don't let our anger lead to sin. That means the initial anger itself is not sin, but how that anger fleshes out in your life may or may not be sinful. Anger that leads to harsh words and resentment is sinful. But anger given over to the Lord is holy!
If anyone had a reason to stay angry, it would've been Jesus. He was perfectly holy and yet accused of so much wrongdoing. But instead of letting anger take hold of His life, He entrusted it to His Father. Follow Christ's example of giving your anger to God and live in freedom from resentment and bitterness!
GIVE YOUR ANGER OVER TO GOD AND YOU'LL LIVE IN FREEDOM FROM RESENTMENT AND BITTERNESS TOWARD OTHERS.
---

For more from PowerPoint Ministries and Dr. Jack Graham, please visit www.jackgraham.org
and
Listen to Dr. Jack Graham's daily broadcast on OnePlace.com.
Watch Jack Graham and Powerpoint Ministries Video Online.

Revitalize your prayer life in 30 days!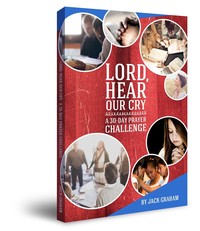 We want to help you Discover how to revitalize your prayer life in 30 days, by sending you Pastor Graham's book, 'Lord, Hear Our Cry.' It's our gift to thank you for your donation to help proclaim the Gospel 'til the whole world hears.
Thank you!
Jack Graham
PowerPoint Ministries