The necessity of expressing thankfulness
June 28, 2011
Oh give thanks to the LORD; call upon his name;
make known his deeds among the peoples!
1 Chronicles 16:8
I remember when our youngest son was just a little boy, and I told him I was going to get him a brand new toy that he'd been wanting. So he'd been getting excited about this for a few days. And finally, the day came when I was going to take him to the toy store.
So I picked him up from school and off we went to the toy store. We went in together and he sprinted to find this toy he so desperately wanted. We picked out just the right thing and walked to the register, paid for it, and he skipped out the door.
And, you know, you get to the point where you get tired of telling your children to say thank you. So you just sort of wait to see if they're growing up. And do you know what he did? He turned around, put his arms around me, and he said those magic words, "Thanks, Dad." And boy, I was so excited that I wanted to go in and get him another toy!
It's wonderful when your children say thank you. And in the same way, our Father in heaven longs for his children to continually express thanksgiving because it's when you and I express those feelings to him that he is pleased.
So remember to always express your thankfulness to God for who he is and what he's done for you!
REMEMBER TO ALWAYS EXPRESS YOUR THANKFULNESS TO GOD FOR HIS CHARACTER AND HIS ACTIONS.
---

For more from PowerPoint Ministries and Dr. Jack Graham, please visit www.jackgraham.org
and
Listen to Dr. Jack Graham's daily broadcast on OnePlace.com.
Watch Jack Graham and Powerpoint Ministries Video Online.
Discover God's awesome purpose for your life!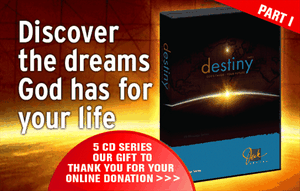 Dear Friend,
Every life, including yours, is a plan of God. That means that your life has a purpose… a destiny. And God wants to help you discover just what your destiny is!
In my new series called Destiny: God's Favor – Your Future, you'll learn from the life of Joseph that YOUR life has a purpose. You'll learn to discover the dreams God has for your life. And you'll see how those dreams can lead you to your God-given purpose and destiny!
Part One of Destiny: God's Favor – Your Future is my gift to thank you for your online donation to PowerPoint today, so please request it when you give.
It is my prayer that this resource will help you discover how God is weaving his awesome plan in your life!
In Christ,
Jack Graham