Today's Word for Pastors...
For God is not a God of disorder but of peace. As in all the congregations of the saints.
1 Corinthians 14:33
Today's Preaching Insight...
The Fallen
Legalistic Christianity is extremely severe on brothers and sisters who slip and fall. Paul is alerting us to the acid test as to how serious we are about grace. In my legalism, I am inclined to point the finger and gossip about the brother or sister who has slipped into sin. Wherein I am preoccupied with the grace of our Lord Jesus Christ and grateful for what God has done for me, I am prepared to restore gently the fallen brother or sister — because I am very much aware of how God has restored me by His grace.
Most of the commentaries illustrate this gentle restoration in orthopedic terms. It's the kind of care a doctor gives to you when you have broken a bone.
Just that casual reference brings back the vivid memories of my 1981 ski accident at Mammoth, in which I had a compound, boot-top fracture of my right leg. I had wiped out in moguls under chair number three. The ski patrol so gently lifted me out of the deep snow into the toboggan. They put my leg in a splint, then skied me as gently as possible down the mountain in that toboggan to the staging area by the emergency room. They lifted me into an ambulance, oh so carefully, and drove me to the hospital. There, in the operating room, the doctors didn't minimize the problem, saying, "Because we don't want to hurt you we are just going to let this heal naturally." Instead, they, so sensitively, shared with me what they were going to do, how they would reset that leg, knowing that without the pain of that delicate surgery, there would not be full restoration. What I remembered was that everything they did was with sensitivity and care for my ultimate good.
That's what Paul is telling us. When you hear a brother or sister has fallen into sin, don't luxuriate in their troubles. Function by the law of love in which you gently restore a fallen brother or sister.
(To read the entire article "The Law of Love" by John A. Huffman Jr. at Preaching.com, click here)
Today's Extra...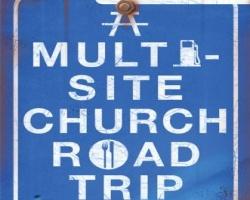 This Week's Book
A Multi-Site Church Road Trip
By Michael Duduit
Editor, Preaching Magazine
Wondering about the trend toward multi-site churches? Then hop on board A Multi-Site Church Road Trip (Zondervan) for an enjoyable and informative survey of what's happening across the American church scene. Subtitled Exploring the New Normal, the book is written by Geoff Surratt of Seacoast Church (with at least 10 sites at last count), and Greg Ligon and Warren Bird of Leadership Network. Don't consider that second site before reading it.
Preaching magazine is the premier resource for those who proclaim the Word. To begin your own subscription and get a free year of issues, go to http://magazine.preaching.com/subscribe/.